For history enthusiasts, Britain is a destination of choice not only for its many top-notch historic monuments, but also on account of its excellent open air museums or living museums, where visitors can take a walk back in time to experience life in bygone ages.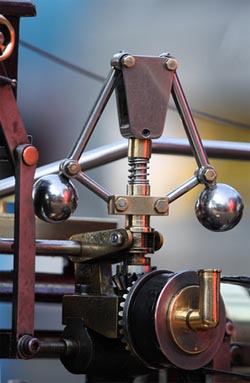 Thousands of enthusiasts and volunteers have restored old machines to their former glory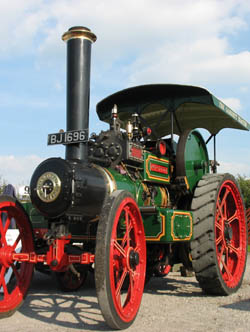 Copyright : Website photos and texts © About-Britain.com 2014 except where otherwise indicated.
Blist's Mill forge photo © Ironbridge Gorge museum.
Living museums and other open-air museums in Britain
This page provides a selection of the most interesting and best open air museums in Britain. In addition to those listed below, there are many more, including about a hundred working steam railways, stately homes and castles with historic reenactments, local museums, and other places where history comes to life.



Ironbridge Gorge Museum

Historic forge in the Blist's Hill museum

© Ironbridge gorge museum

Near Telford, west of Birmingham.


One of the very first sites selected by UNESCO as a World Heritage site, the Ironbridge area, in the Severn Valley to the west of Birmingham, is known as the cradle of the Industrial Revolution.
It is here that the forgemaster Abraham Darby first had the idea of transforming iron ore into iron using a process based on coal, instead of using charcoal. This discovery revolutionized the production of objects made ​​of iron, which could henceforth be manufactured in larger pieces, more easily and more quickly. Without this, the industrial revolution would not have occurred.
The sector comprises ten Ironbridge museums, the most famous of these being the Blist's Hill Open air Museum, recreating life in the industrial and Victorian ages. With many extras, and the rebuilding or conservation of old buildings from the eighteenth and nineteenth centuries, the site lets visitors discover shops, homes and factories from bygone times. Displays include working forges and steam-powered machinery, a historic pub, a Victorian schoolhouse, and plenty more. This is a museum that will fascinate visitors of all ages.


Black Country Museum

Dudley, near Birmingham


The Black Country Museum in Dudley , in the heart of the the West Midlands, offers a similar experience, with over forty urban industrial heritage buildings rebuilt on site. You can also take an old tram, or travel by barge on the canal.



Beamish Open Air Museum

Northeast England - 8 miles southwest of Newcastle on Tyne


In the North of England, near Durham and Newcastle, this substantial outdoor museum recreates the industrial town and countryside of Beamish, on an area extending over 120 hectares. At Beamish visitors can discover the life and ways of the inhabitants of Britain's industrial north - its miners, its engineers, its ordinary folk and those who worked on the land. The museum includes a small town rebuilt from scratch from typical buildings saved from demolition, a period farm, a mine and mining village, as well as an operating tram system. There is also a reconstruction of the first industrial railways, with a locomotive from the early 19th century .



Some other air museums :

.

Morwellham Quay, south Devon

South West England : Devon.

Morwellham quay Museum

: Here a small industrial harbour has been restored to the way it used to be, when the Southwest of England was a major player in the early industrial age. Morwellham is part the

Cornwall and West Devon mining landscape

, a UNESCO World Heritage site. Irone ore and other minerals were exported from Morwellham right back in the Middle Ages. Volunteers bring to life the port, with its adjoining George and Charlotte copper mine which is visited on a mine train. There is also a great water-wheel.




South Wales :

Big Pit Museum, Blaenavon

UNESCO World Heritage site.
Here visitors can go down a real coalmine, 100 metres underground, accompanied by guides including former miners. Big Pit is in the heart of what was once one of the largest coalfields in Europe. It is now the last "open" mine in the region.




Sussex, near Arundel

Amberley working museum

Covering 15 hectares , the museum presents the traditional industrial and rural life of south east England. Extras, steam railway, vintage cars, craftsmen at work.




Bridgnorth to Kidderminster, west of Birmingham.

The Severn Valley Railway

Perhaps the most famous of Britain's the 100 historic railways, the Severn Valley line lets people take a trip back in time along a renovated railway. The historic steam trains travel a distance of 25 km through the beautiful countryside of the Severn valley. The steam engines and rolling stock date from the 20th century, and the stations have been renovated to how they were a hundred years ago or more. The line runs thanks to the enthusiasm of its many staff, members and volunteers.



Sussex, near Chichester.

The Weald and Downland Museum

Covering 50 acres - over 20 hectares - this is an important museum of rural England. Over 50 traditional buildings from the local area have been assembled and rebuilt on this site, and many of them are furnished as they were in the past. The museum runs a calendar of special events, with living history reenactments, throughout the year.