About-Britain.com - a thematic guide to Great Britain
Travel and transport in LONDON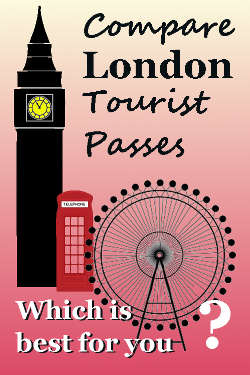 LONDON is one of the biggest cities in Europe, and it has one of the world's largest public transport systems. Today's public transport in London includes buses, suburban trains, the Underground (also called the Tube), the DLR or Docklands Light Railway, and some modern tram routes.
London's public transport system is primarily managed in order to provide transport for people living and working in the city, who use travel passes and cards. It is not user-friendly for people who want to buy one ticket at a time, for each journey. So even if you are a tourist in London, it is
best to buy one of the different passes or cards available.
London travel tips for Tourists
1. Warning. Do not drive into London by car, if you can avoid it.
To travel into London from outside the city, take the train or a bus service ! Traffic is difficult everywhere in the British capital, and the streets of central London are paid access. Parking is expensive.
Visitors touring Britain by car are advised to leave the car in the suburbs and take the train into town. Daily travelcards, ordinary contactless credit cards, or "Oystercards" can be used on buses, underground trains, suburban
trains and the Docklands Light Railway.
2 Warning. You cannot jump on a bus in London and buy a ticket with cash.
Cash is no longer accepted.
Buy a travelcard or an Oystercard... or even a pass... or just
use your contactless credit card

or debit card
The easiest solution !

Use your own contactless credit card
London leads the world
when it comes to simplifying payment on public transport
. Most contactless

credit cards or debit cards (that's right, the ordinary Visa, Mastercard, Amex etc. you have in your pocket right now )
can be used to pay for single or multiple journeys on London's buses and underground. Cards from over 150 countries can be used - and if your card works elsewhere in Britain, it should work in contactless mode on London transport.

How much does it cost ?
If you use a card from another country, you bank or card company may charge a transaction or exchange fee, as it does each time you use it abroad. However if you use the same card for several journeys by bus or underground on the same day, they will all be charged as a single payment, which
cannot exceed

a total of £7.40
for a single day for travel within zones 1 - 2. (central London and near suburbs), and £13.50 for travel in zones 1-6.
Important :
not practical for
family travel,
as each traveller (including children) must have his or her own contactless card, and all travel is charged at the adult rate.
What kind of ticket?

The choice of public transport tickets is very confusing for visitors; for tourists, the
easiest
solutions - and if you plan to make several journeys in the day, the cheapest solutions - are to buy a
one day Travelcard
(or a 1 week travelcard) or use your ordinary contactless credit or debit card (see above).
Travelcards
Travel cards are cards that are valid for a day, a week, a month or a year.
Buy on the day
. This is the easiest, and in many cases the cheapest solution.
Travelcards can be bought on the day at the London area station where you first start your journey.
If you plan to come in by train from outside the London area transport zone (outside Greater London), you may be able to buy a travel card covering your journey to and from London, and transport within London for the day. Check with your local station.
Alternatively, arrange to reach London after 9.30 a.m, then buy a
travelcard
when you reach London, for use in the London area .
London daily adult Travelcard prices
2022
Anytime - Zones 1-4, £13.90,
Anytime - Zones 1-6, £19.60
Off-peak (for use after 9.30 am) - zones 1-6 £13.90
Zones 1-4 cover central London, and include such tourist destinations as Wembley, Wimbledon, the 02 arena, Greenwich and London city Airport.
There are a few stations, all of them to the northwest of London, that are in zones 7-9.
A
daily off-peak travelcard covering zones 1-9 costs
£14.70
Oystercards
Oystercards are like a digital wallet or a prepaid phone-card.
Buy a card and top it up as you need.
There are
two sorts of Oyster card,
the normal
Oyster card
and the
Visitor Oyster card.
There is
no difference in price.

You can
buy in advance or order online in advance both kinds of Oyster card.

You can buy an
ordinary Oyster card
from
anywhere in the UK.

If ordering from
outside the UK
or buying at an
airport
or on the
Eurostar,
you can only get a
Visitor Oyster card

.

You

cannot

buy a

Visitor Oyster card

in

central London.
Oystercards are prepaid travel passes. Journeys are charged one by one, at a discounted price compared to the single ticket price; there is a daily cap on charges, which will
never exceed the cost of a daily travelcard
, and may well be less.. Visitors can buy Oyster cards on the Transport for London
website
: but this may not be the best solution for visitors spending only a few days in London.
Travelcards
are easier but slightly more expensive:
contactless credit cards
are simple and may be cheaper - but beware each person must have a different card, and there are no child concessions.
Combined London pass (attractions) with travel
Plan in advance: London attractions + travel
You can add a travel card to the Turbopass
London city Pass
or
the London Pass
, if you order in advance. With 1, 2 or 3-day
Pass + travel
, you get free use of public transport included in your Pass, as well as free access to lots of attractions.
Compare rates
for the different passes
Single tickets
Traditional single tickets can be purchased for any journey, but this is
not
usually the best solution.
⛔
You cannot use cash, notes or coins
to buy tickets on board London's buses.
You
can
use a contactless credit card.
See Warnings below, and credit card use
above
.
Taxis
Taxis can be used all over London: for people travelling together, they will often be cheaper than taking single-journey tube or underground tickets. You can also use online services such as Uber.
WARNINGS:
Avoid buying single journey tickets.
Public transport in central London is
NOT
user-friendly for visitors, tourists and occasional users, and is very expensive for them, unless paid for with a contactles credit card or debit card.
You
cannot use cash, notes or coins
to buy tickets on board London's buses.
You can use a contactless credit card or an oyster card.
Single journeys in

2022
( or up to an hour's travel) on the buses in central London cost
£1.55
each. and on the underground they cost a huge
£5.50
if paid for at the station, or £2.40 if charged to an Oyster card or a contactless debit/credit card .
For two people travelling together, a short
taxi
ride (up to 13 minutes) will cost less than two single tube tickets....... If there are three of you, you can take a 20 minute taxi ride for less than the cost of three single tube tickets.
So unless you really plan to make a maximum of only three bus journeys in a day, or one journey on the Tube, buy a Travelcard. If possible, plan in advance ! Better still, use your contactless card.
Copyright : Texts and photos

© About-Britain.com 2009-2022