About-Britain.com - a thematic guide to Great Britain
Discover London - where to stay, what to see, what to do, how to get around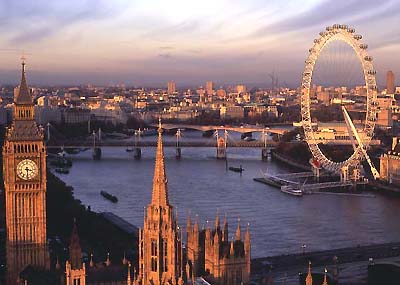 LONDON !
At one time it was the largest city in the world. Today, although exceeded by several megacities on different continents, London remains a city that fascinates and attracts millions of visitors each year. And for good reason. It is one of those great " world cities " cosmopolitan centers that offer the visitor not just an unparalleled choice of museums and monuments, but also an unforgettable experience and a change of scenery . London is London , and no other city in the world is like it.
Its attractions and places of interest are countless and cater for all tastes and all ages; its shops - small and large - are often unforgettable; its culture - theatres and museums combined - in a class of its own..
►Tourism in London
Tourists visiting London are spoiled for choice. Depending on your preference, you can choose between dozens of attractions, places, shows, shows or strolls. Here is just a selection of some of the most popular.
Changing of the Guard at Buckingham Palace. Every day at 11:30 from May to July, otherwise every two days. However the ceremony does not take place if it is raining heavily.

NEW

! Go to the top of the Shard - Europe's tallest scyscraper
The London Eye. On the South Bank of the Thames, opposite Big Ben Big Ben. Get fabulous aerial views of the river Thames, the Houses of Parliament, and the London skyline.
Big Ben and the Houses of Parliament -
These can be seen from the outside, right next to

Westminster Abbey,

one of the finest and largest of Europe's great medieval cathedrals, built in Norman times
The Tower of London: a medieval fortress, in very good condition, which has marked the history of England. Historical collections and official jewels of the English monarchy, "the Crown Jewels". Open daily.
St Katherine's dock (historic boats) and Tower Bridge; just a few hundred metres from the Tower. Free to visit.
The London Dungeon: plunge into the world of medieval torturers! On the south bank of the Thames, opposite the Tower.
HMS Belfast: on the Thames, opposite the Tower. Visit a Royal Navy warship that saw service during the Second World War.
Madame Tussaud's: World-famous waxworks, where you will meet all kinds of celebrities from today and yesterday; including stars, historic characters, world leaders and even some notorious criminals.

The British Music Experience

- the great interactive museum of British popular music - pop, rock and the rest - located at the O2 arena, Greenwich. The O2 arena can be reached by the London cablecar, known as the Emirates Air Line, from near Canary Wharf. Nearest station: Royal Victoria, on the Docklands Light Railway.
Hyde Park: the great area of parkland in the West End. Picnic on the grass, or stroll under the trees to forget for a few minutes the streets and traffic.
St. Paul's Cathedral: London's great neo-classical cathedral of the city, designed by the great architect Sir Christopher Wren in the seventeenth century.
London Zoo - in Regent's park - one of Britain's top zoos now a major player in world wildlife conservation.
Clubs: London has many, big and small. Clubbers will surely already know where they want to go! But for others, try for instance the Ministry of Sound at the Elephant & Castle.
See also culture below, for the main London museums, and more London pages:
London for Free, Using public transport in London, and Country walks near London.
► Shopping in London
For more details visit
Shopping in London
Department stores Head to the West End, and the streets of

Regent Street

and

Oxford Street

in particular. You will find the most famous British department stores, including Marks & Spencers, Debenhams, Liberty, Hamleys - the oldest toy shop in the world - and other big British and international names.
In the little streets nearby, discover small specialist shops:

Savile Row,

with its famous tailors and shirt-makers,

Carnaby Street

with its hip trendy boutiques.

Bond Street

, for its up-market drapers and tailors.... and much more too.

Harrods

: in Knightsbridge. This is the largest store in Europe, with over 90,000m ² of retail space, on 7 levels. The store has over 300 departments, and popular legend has it that you can buy anything in this shop.
For more information visit Shopping in London
►London accommodation
Visit this page >
Hotels in London
, to find a hotel in London: view a list of London hotels by category, from low cost hotels to large luxury hotels
►Culture: National museums are
free

and

open every day

More detailed information: click for

London's art galleries
The National Gallery

: One of the largest art galleries in the world, located in Trafalgar Square. Free admission.
The Science Museum - South Kensington . You can easily lose yourself for a day or more in this great science museum. This museum, which is free, is very close to .....
The Natural History Museum - Cromwell Road. Free entry. From insects to dinosaurs, discover the fascinating world of nature in one of the largest museums of its kind in the world.
Museum of London - the world's biggest museum devoted to a single city. In the City, at London Wall, a few minutes from St. Paul's cathedral.
The British Museum: Great Russell St (near Oxford St.) one of the largest museums in the world, with remarkable collections of art and artefacts from around the world.
V&A : the Victoria et Albert Museum. The major national museum of decorative arts, including sculpture, porcelaine, paintings, decoration, particularly noteworth for its collections of 19th century decorative arts.
Tate Modern : South Bank; near Southwark Bridge. Britain's most famous modern and contemporary art gallery.
Theatres: London's West End is particularly famous for its

Musicals

. No need to understand English: just come in and enjoy the music and the show. You can buy your tickets online, often at discounted rates for all major shows in London.

Rock music

London is a world capital of rock and pop music, with several major venues including the O2 arena.

Classical music: Plenty of choice here: for major events choose between the Royal Albert Hall, The Barbican Centre, or the capital's other large concert halls.
Opera: London's most famous opera house is located at Covent Garden, in the West End
Getting round London
See
Using public transport in London
Getting out of London
London is surrounded by some lovely English countryside; and it's full of places to visit, or just places where you can get out for the day and enjoy some fresh air.
For

a day in the country

from London, see Country walks near London - real country rambles all directly accessible

by train

in less than an hour from a London terminus.
For more ideas of

places to visit

that can easily be reached from London

by train

, see regional guides: Southeast England (including Eastbourne, Rochester, the North Downs), the East of England (including Cambridge), Central southern England (to the west of London, including Windsor and Oxford)
Copyright :

Website and texts © About-Britain.com 2009-2018 except where otherwise indicated
London, it is said, is now the World's no.1 tourist city. Well maybe it is, maybe it isn't; what does it matter? One way or the other, London is a city overflowing with tourist attractions of all sorts. This page is an introduction.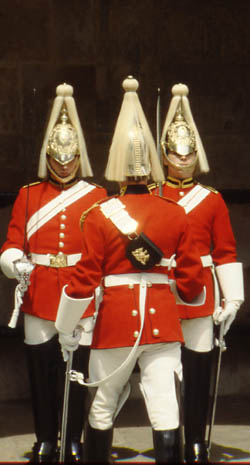 Copyright : Website photos and texts © About-Britain.com 2014 - 2018 except where otherwise indicated.