About-Britain

.com
- A discovery of Britain, the country and its life
A guide to rail travel in Britain - and buying train tickets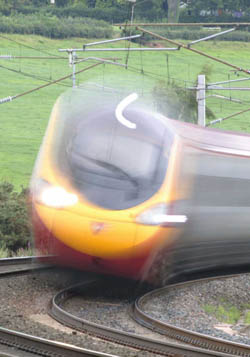 Some tips and useful information
Companies

and routes

Train services in Britain today are run by a number of private companies, each with franchises to run certain services and certain routes. For visitors to Britain (as indeed for people living in Britain), the system can seem complex. And it is; and it is not necessarily the best way to run a national railway system.
Buying tickets
So how does one buy tickets, and more importantly find what companies operate trains between any two points ?
Actually it's not as hard as that, and the system and the solutions are pretty similar in the end to the system everyone uses for buying airline tickets. It's even a bit simpler, as the number of operators on any given route is limited to just one or two - with a few exceptions. The only complex operations are journeys involving changes between networks or routes run by different operators. But this concerns only a very small proportion of journeys. For far the greatest number of journeys, travellers will use just one train, or one operator. And tickets for all rail companies, anywhere in the UK, can be bought in advance at discounted rates from online ticketing websites such as
Raileasy
.
Each of the train companies operating in Britain has one or more concessions to operate services on a particular route or in a particular region or for a particular network of suburban trains. So it is
Virgin
who currently has the concession for the main " West Coast" lines from London to Birmingham, Liverpool and Manchester and Glasgow. Virgin also holds the concession for intercity lines from province to province.
For the south west of England and south Wales mainline services and most regional services on the old Great Western Railway network are operated by a company that has revived the name of the original train company on these routes,
First Great Western.
Around London , there is usually only one operator per commuter route ... but different routes are served by different operators; and all London suburban services are covered by the London public transport pass systems, the Oyster Card or the Travelcard (see
travel in London
).
Hotels in Britain at the best rates
from Booking.com
Britain's rail network stretches from the north of Scotland to the southwest tip of England, connecting all cities and many beautiful rural areas too. Click here for
scenic heritage rail routes
.
To find the right operator , the easiest way is to use an
internet ticketing site
(and buy tickets in advance, which are frequently cheaper), or go to the station and ask for options.
Cut-price train tickets
While there is no point looking for low-cost tickets at peak times on high demand routes, for instance for a direct London-Manchester express departing at 9am on a weekday .... choose off-peak departure times, and the price can be divided by 4 .....
On major intercity routes or lines, there is usually a choice of three types of ticket:
"

Advanced

" - cheaper, but valid only on the designated train,
"

off-peak

" valid on any train outside peak hours, and
"

anytime

"- the most expensive ticket, but fully modifiable.
And of course, there is a choice between first and second class on most trains.
Finally, book well in advance, and you will find cheaper tickets - which is the classic principle of low-cost travel ticket sales, be if for flying or taking the train.
The
Raileasy
website offers tickets for all British railways ...
For suburban train services, where there are no reserved seats, tickets can generally be used in any train - unless they are bought at a special "off-peak" reduced rate.
Which London station ?
Before ordering your tickets on line, or before going to the station in London to take a train, it is best to know which London Termini serve which parts of Britain.. Here is a very brief guide to the main destinations served from London stations.
Saint Pancras: Eurostar for Paris & Brussels
Leicester, Nottingham, Bedford
Kings Cross (pedestrian access from St Pancras) : "East coast main line" services : Edinburgh, Aberdeen, Newcastle, York, Leeds, Cambridge and the northern outskirts of London.
Euston: "West coast main line" services Birmingham, North Wales, Manchester, Liverpool, Preston, Glasgow, and northwest London suburban areas.
Paddington: Great Western area: Cardiff, South Wales, Bristol, Oxford, Cheltenham, Exeter, Plymouth, and western suburbs of London.
Waterloo: Portsmouth, Southampton and southwest suburbs of London
Victoria : Brighton and southern suburbs of London

Charing Cross

- Southeast London and Kent

Liverpool Street

- East Anglia, Colchester, Norwich, Cambridge, and northeastern suburbs of London.
►
Check out tickets at the lowest discounted prices on
Raileasy
The revival of rail travel in Britain
The days of Margaret Thatcher are now a distant memory. In the 1980s, during the Thatcher years, Britain's railways were largely abandoned, just receiving the minimum investment required to keep them in working condition. The "Iron Lady" did not like state-run railways.
But even before "Maggie" left office, and despite the poor state of certain services, the fact remained that rail travel in Britain was on the up. And for good reason; with motorways already saturated in parts, and road trips between suburbs and city centres increasingly congested, the train was again becoming a more attractive and usually faster option, despite its problems .
To renovate the rail network at least cost to the taxpayer, Margaret Thatcher's successor, John Major, set about privatising the trains and the track they ran on. Not content to let a single private company the task of running trains and thereby ensuring a coordinated national service, the government wanted to inject the notion of competition, so service franchises were sold to the best bidders. After a few failures, the system now works without too many problems ..... though it is far from perfect.
In addition to the franchise train operators, the British network is also open to other companies wishing to offer specific services on specific routes. Among these are Eurostar, Heathrow Express and a few others like Grand Central , an indirect subsidiary of Deutsche Bahn .
Railways in Britain today
So, today, thirty companies provide passenger services on the national network. The network itself - the tracks - was also privatized in 1994, but re-nationalized in 2002 as a publicly owned company.
Since before the privatization, traffic has been steadily increasing to the point where in 2011 the number of trips by rail in Britain matched the historical peacetime record of 1920. It is still increasing, and seems set to continue doing so given growing problems of road congestion and problems of parking in cities. And while there is still plenty of progress to be made on commuter trains, major intercity routes now have trains running at speeds of up to 200 km / h .
High speed trains in Britain ?
The only real High Speed route in England is that connecting the Channel Tunnel to St. Pancras in London, used by Eurostar trains to Paris and Brussels. A second project, called HS2, is currently under construction; this high speed rail line from London to Birmingham and Manchester has aroused a lot of opposition, particularly from residents of the rural areas through which it will pass; the project will not be completed before 2024 at the earliest.
Meanwhile, major sections of the most important intercity routes are open for services running as medium high speeds, up to 200 km/hr (125 mph) .
►
Check out tickets at the lowest discounted prices on
Raileasy
For information about trains in and around London, see
London travel for visitors


Copyright : Website and texts © About-Britain.com 2009-2022 except where otherwise indicated