About-Britain
.com - a thematic guide to Britain
Discover Britain

Essential information

Places to visit

Attractions by theme

Issues & institutions
Regional tourism information for the UK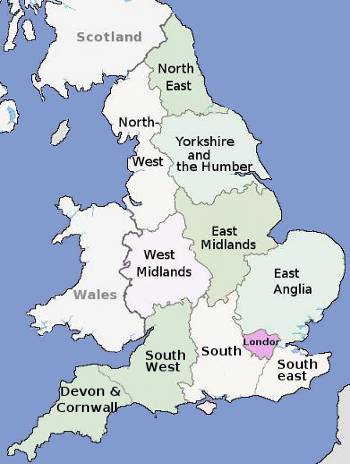 There are no regional tourist boards in Britain as such, largely because Britain is not divided into administrative regions.
Nonethesess,
About-Britain.com
provides overall regional tourist guides for the unofficial or official regions of the UK, as shown on the map. Each guide provides a general regional overview, and carefully chosen lists of the most important tourist attractions in the area, in terms of heritage tourism, cultural tourism, and rural tourism - i.e. the main castles and stately homes, historic sites, tourist cities, coastal attractions and areas of natural beauty.
Click on any area on the map to discover the main tourist sites, or click any of the regional links below. Note that some regional guides are still under development, and will not be available until they are ready for publication. Those that are up and running are :
For national or trans-regional
thematic guides
(such as cathedrals, heritage railways, etc), use the drop-down menu under "Attractions by theme" at the top of this page.
Tourism in Britain is officially promoted by area or county tourist structures known as "DMO's", which among other things run local tourist information offices. These are locally managed, and their activities and the services they provide vary considerably from place to place.
For the official British tourist organisation, see
Visit Britain