Tourism and heritage in the Westcountry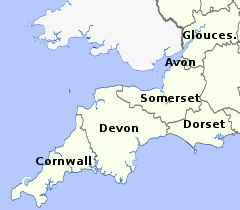 Devon and Cornwall form the far southwest tip of England, jutting out into the Atlantic ocean. This is one of Britain's most popular tourist areas, with its long sandy beaches, and very picturesque interior, with landscapes of moorland, hills and valleys.
The south coast of Devon is noted for its mild climate, and the south-east facing coast around Torquay and Paignton has become known as the "
English Riviera
". Beyond Start Point, the southern tip of Devon, the coast is rockier and characterised by many inlets and small estuaries, very popular with yachtsmen. The north coast of this region is famed for its long sandy beaches and rocky coasts. Facing out to the North Atlantic, this coastline is popular with surfers. The area also attracts walkers and hikers, who can follow England's longest hiking trail, the
Southwest Coast path
. Running from Minehead in west Somerset to Poole in Dorset, this 630 mile hiking trail – over 1000 km – follows this most dramatic of English coasts, round Land's End and the Lizard point, respectively the most westerly and most southerly points in England.
Local accommodation: ►
Find places to stay in Devon :
Devon hotels & b&bs
at best rates on Booking.com
A selection of the best places to see and visit in Devon
Name
Location
Highlights
Seaside resorts, towns and villages
Seaside resorts
North Devon
On account of the rocky coastline, there are few large resorts on the north Devon coast. The most popular, with their fine beaches, are Ilfracombe and Westward Ho! Other seaside towns or villages are relatively small; these include Clovelly and Lynmouth.
Seaside resorts
South Devon
From east to west, favourite seaside resorts include genteel Lyme Regis, Sidmouth and Budleigh Salterton, then the popular resorts of Exemouth, Dawlish, Torquay and Paignton, with their sandy beaches. Beyond Paignton, the coast is mostly rocky and the towns of Dartmouth and Salcombe are popular with yachtsmen.
Beer and Lyme Regis
Devon,
Jurassic coast
Two small former fishing ports on the Jurassic coast; Lyme Regis is famous for it "cob", a stone jetty potecting its harbour. Beer, which is smaller, has an attractive beach, and also the Beer caves, former underground stone quarries.
Clovelly
Devon
North coast
A classic Devonshire village, beside a steep street (pedestrians only) leading down to a small harbour
Widecombe in the Moor
Dartmoor
Classic Devonshire village, located in the Dartmoor national park
Dartmouth
South Devon
Home to Britain's Naval Academy, Dartmouth is an attractive small town on the banks of the river Dart, a long sea inlet. The most interesting way to reach Dartmouth is by steam train from Paignton, on the historic Dartmouth Railway.
Historic cities
Exeter
Devon
Exeter is home to one of England's great mediaeval gothic cathedrals, largely dating from the 14th century. Exeter cathedral is remarkable for its long vaulted ceiling, and for its ornate western facade. Exeter's Guildhall is the oldest civic administrative building in England, and has been in use for over 600 years. Other sites: the old port, and the ruins of Rougemont castle.
Outdoors and countryside
Jurassic coast
East Devon and Dorset

UNESCO natural world heritage site.

The Devon part of this coast includes the cliffs around the small harbour town of Lyme Regis, known worldwide for their fossil beds from the Jurassic period. Also the small resorts of Beer, Seaton and Sidmouth
Exmoor National Park
North Devon and Somerset
Almost 700 sq. km, much of it open grazing land for sheep and wild ponies; a landscape of grass bracken or heather-clad hilltops and valleys, Exmoor - most of which lies in Somerset - is wonderful walking country. Devonshire highlights include the coastal villages of Lynmouth and Coombe Martin
Dartmoor National Park
South Devon
Over 950 sq. km of open heather-clad moorland in south Devonshire, including the highest point in the south of England, High Wilhays (621 m). Dartmoor is very popular with walkers. Many of its hilltops are marked by "tors", outcrops of weather-worn granite. There are also a number of prehistoric sites on the moor, notably stone circles and the remains of settlements. the moor is well known for its wild ponies, though these are declining in numbers.
English Riviera
Devon
Sheltered from the prevailing winds, the southeast facing coast of Devon, round the resorts of Torquay and Paignton, enjoys one of the mildest climates in Britain, and has become known as the English Riviera. Plenty of sandy beaches and tourist accommodation.
North coast of Devon
Devon,
From Exmoor to Hartland Point a beautiful coastline marked by its picture-postcard villages such as Clovelly and Lynmouth, its small traditional resorts including Ilfracombe and Westward Ho!, and its miles of unspoilt coastline accessible to walkers and ramblers. Boat trips from Ilfracombe to the bird sanctuary of Lundy Island.
Attractions - places to discover
Kent's Cavern
South Devon, Torquay
An underground cave complex in which were found the oldest certified traces of homo sapiens in northwest Europe. Guided tours
Dartmouth Railway
South Devon,
Paignton,
One of the attractions of the English Riviera, a 10 km steam operated heritage railway running from Paignton to KIngswear, at the mouth of the river Dart
Morwellham Quay and Mine
South Devon, near Plymouth
Part of the UNESCO world heritage site, the

Cornwall and West Devon mining landscape.

Open air museum including a late eighteenth-century quay with historic boats, and a copper mine visited on a mine-train
Best attractions and places to see in Cornwall
Name
Location
Highlights
Seaside resorts, towns and villages
Seaside resorts
North Cornwall
The resorts of north Cornwall are famous for their long sandy beaches, and their surf. there are four main resorts, Bude, Newquay, Perranporth, and St Ives
Seaside resorts
South Cornwall
This coast is mostly marked by a rocky shoreline, with numerous inlets and small harbours. As regards seaside resorts, with good beaches, there are only three – Penzance, Praa Sands, and Porthleven. Apart from these there are plenty of small beaches and coves, such as Kynance Cove or Gorran.
Truro
Central Cornwall
The Cornish capital - the best shopping in Cornwall, but the small city itself is not one of Cornwall's tourist attractions. The cathedral dates from the 19th century.
Penzance
West Cornwall
The "end of the line", the most south-westerly town in England. A popular small resort well located for discovering the nearby points of interest, Land's End, the Lizard, Saint Michael's Mount, and others
St. Ives
North coast
Famous for its beaches and its colony of artists, St. Ives is home to an outpost of the Tate Gallery.
Historic monuments in Cornwall
Saint Michael's Mount
South
Cornwall
While much smaller than the more famous Mont Saint Michel in Normandy, Saint Michael's Mount is similar - a rocky island just off the seashore, accessible by a causeway at low tide. Less built up than its Norman counterpart, Saint Michael's Mount is an island village crowned by a priory and castle. Legend has it that the Archangel St. Michael appeared here to fishermen in the year 495 AD.
St. Mawe's Castle
South Cornwall
The best preserved of the many defensive castles built by King Henry VIII along the south coast of England in the 16th century. St Mawes, and its sister Pendennis Castle, guard the mouth of the river Fal, outside Falmouth.
Outdoors and countryside
North coast of Cornwall
Cornwall
From Exmoor to Land's End, the north coast of the Devon-Cornwall peninsula is spectacularly beautiful. From Hartland Point on, the coast is exposed to the Atlantic, and is popular with surfers. In summer, the many fine sandy beaches, such as Bude or Perranporth, attract plenty of tourists - though there is room for all, and there are plenty of smaller and often empty beaches. Highlights include the picture-postcard village of Clovelly, Tintagel Castle, perched on the edge of the cliffs, and the small port of St. Ives, which now hosts an outpost of London's Tate Gallery. The whole coast can be discovered on foot, along the northern leg of the Southwest Coast footpath.
South coast of Cornwall
Cornwall
The south coast of Cornwall - though not far from the north coast - is gentler. It is characterised by a number of estuaries and inlets, with small fishing ports. Among the highlights of this coast are the small towns of Falmouth, Looe and Penzance, as well as the Eden Project, the Gardens of Heligan, (see below) and Saint Michael's Mount (see above). The whole coast can be discovered on foot, along the Southwest Coast footpath .
Land's End and the Lizard
Cornwall
At the extreme southwest are two of Britain's most famous points, the Lizard - the southernmost tip of Great Britain - and Land's End, the westernmost tip of England. Neart Land's End is the dramatically sited Minack open-air theatre, overlooking the Atlantic ocean.
Attractions - places to discover
Poldark Mine tours
Southwest Cornwall, near Helston,
The only complete underground Cornish tin mine open to the pubic. The mine was at its peak in the 18th century, at the start of the industrial revolution; shut down in 1780 and rediscovered in the 1970's, the mine at Poldark has much of its original character.
The Gardens of Heligan
Cornwall, near St. Austell
The "Lost Gardens of Heligan" are fabulous sub-tropical gardens, located in a very sheltered spot near the south Cornish coast. Exotic plants from much warmer regions all over the world grow here. Part of the National Rhodedendron collection, including bushes planted in the mid 19th century.
The Eden Project
Cornwall, near St. Austell
Plant conservatory, most remarkable for its two huge sets of geodisic domes. One of these recreates a Mediterranean biosphere, the other a tropical biosphere. The tropical dome is large enough to include full size tropical trees. The site is located in a very sheltered south-facing former kaolin pit. The Eden Project is designed as an attraction and as an environmental education facility

Return to Southwest area guide