Visitor and tourist accommodation in Britain - the different options
Accommodation and hotel prices in Britain
Traditionally, the prices quoted for hotel and other guest accommodation in Britain are indicated

per person per night,

and include breakfast. The inclusion of breakfast is one reason why British hotel prices are often seen to be higher than hotel prices on the continent. However, international and national branded chains tend to charge per room per night, as in Europe, and this trend is spreading - encouraged also by the spread of online booking services.


Meals

- apart from breakfast - are not usually included. For guests wanting to stay in a residential hotel, "full board" is the price including lunch and dinner; "half board" included an evening meal.
Hotels in Britain
With almost a million rooms on offer, Britain's hotels have something for everyone.
Click here for hotels in London.


Luxury hotels
There are four-star or five-star luxury hotels in all British cities,with a particular concentration in London. London has a wide choice of top quality centrally-located hotels offering everything from the most classic luxury, as at Claridges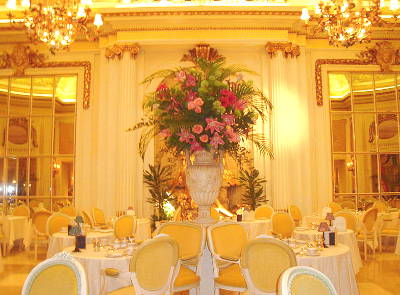 Dining room in a luxurious classic London hotel

or the Savoy, to contemporary chic at the Westminster Intercontinental or the Park Lane Four Seasons. In terms of capacity, there are large luxury hotels that cater for business conventions and meetings, to intimate small "boutique hotels" with just a few rooms.
Edinburgh is another city with a big choice of top quality hotels. But luxury hotels can be found in all cities, and also in rural areas, notably in country house hotels, that were formerly manors or stately homes.

Mid range hotels
Two-star and three-star hotels make up the largest category of hotels in Britain; the choice varies from traditional hotels, many of them independent, to a growing number of modern chain hotels, offering fairly standardized accommodation, but at often reasonable rates.

Budget hotels
There has been enormous growth in recent years of "branded budget hotels", providing basic accommodation at often unbeatable prices. The biggest chains are Premier Inn and Travelodge, which have outlets nationwide. In rural areas, most budget hotels tend to be independent establishments, and usually quite small; many are old inns or more modern hotels. Quality varies enormously.

Guest houses and B&B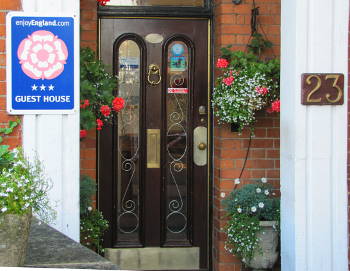 Small three star guest house

There is supposedly an official definition of "guest houses" in Britain, as small-scale accommodation in a private house, that is not licenced to sell alcoholic drinks. But that is more theory than practice. While many guest houses do correspond to this definition, there are quite a few guest houses specially up-market guest houses - which have a bar or a licenced restaurant.
But generally speaking, guest houses are small establishments with no more than half a dozen rooms, and often with resident proprietors. Some establishments may describe themselves as either a guest house or a b&b.
On the whole, for an eqivalent level of quality, guest houses are cheaper than hotels, though this is not necessarily the case. Guest houses, or guest accommodation, can be star-rated just like other forms of accommodation, but many guest houses do not apply for a rating, on account of the costs involved.

Bed and breakfast - B&B
The B&B sector is very developed in Britain... which maybe explains why the English expression B&B is now used in many parts of Europe. B&Bs can vary from top quality (and top prices) to low-cost and basic; whether in towns, suburbs, villages or the county, accommodation that lists itself as "b&b" will normally be provided in a private house, and generally offer at most six rooms. B&B accommodation can be a great solution for visitors wanting something a bit more homely and personal than a hotel.
Some B&Bs, though by no means all, provide evening meals.


Hostels
In Britain, the word "hostel" is most often seen in the context of the expression "youth hostel"; but this is not always the case, specially in big cities.
The YHA or "Youth Hostel Association" of England was founded in 1930. By 1950 there were over 300 youth hostels in England and Wales offering cheap accommodation, mostly rural, to young people. Accommodation was in dormitories, and visitors were expected to provide their own sheet sleeping bag, often to cook their own meals, and do chores before leaving in the morning.
All that has changed, though the image remains quite well established. Today there are less than 200 youth hostels in England and Wales, and they are open to all, not just members. They offer small dormitories or family rooms and provide bed linen - though guests make their own beds. Many youth hostels are in lovely locations, and continue to offer low-cost accommodation. Check out youth hostels in Britain on the YHA site
In London and other cities, there is a choice of privately run low-cost dormitory-style hostel accommodation. Universities and colleges may also hire out rooms in their student residences during the vacation period; however they do this at market rates, and visiting students should not imagine that short term university residence accommodation is necessarily going to be cheaper than a hotel.
To find and book hostels in Britain, click here.



Cottages and farm stays
These expressions are the normal British equivalents of the term "gites" as usede in France: cottages are normally hired out on a self catering basis, farm stays are quite variable.
Like other forms of accommodation, they are - or can be - ranked or graded with stars.


Camping and caravan sites
There are thousands of camping and caravan sites in the UK, most of them catering for tents, mobilehomes and caravans. Around the coast, there are a large number of static caravan sites with a mix of caravans for hire and permanently-parked privately-owned caravans.
In popular coastal areas, and near main tourist attractions, it is essential to book in advance during the peak holiday period and holiday weekends. At other times, and away from the busiest holiday areas, advanced booking is not usually needed.


Copyright : Texts and photos

© About-Britain.com 2009-2015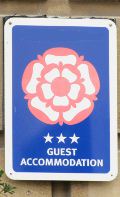 ►
UK hotel finder
Choose a category, then
click. On the results page, click "

show map

", and zoom in on the area or city
Book online in advance to ensure availability, and best internet rates, with low price guarantees