About-Britain
.com - a thematic guide to Britain
Site index

Essential information

Places to visit

Attractions by theme

Issues & institutions

Les pubs anglais
English Pubs - a lasting tradition
The
Pub is a traditional part of English life , and even though in recent years, the steady increase in the price of a "pint " (just over half a litre of draught beer) has led to a drop in the number of visits people make to their "local" and the closure of a large number of pubs across the country , surveys show that two thirds of adults in Britain visit a pub from time to time, and half of the adult population go to the pub on a regular basis.
This is not surprising. In all societies, places where people can have a drink together on "neutral" territory are part of social lifre. They are places where people go to talk to each other, to find companionship, to gossip and catch up on news from near and far . The French have their cafés, Americans their fast foods, the English - and the British Isles in general - their pubs. The English pub is a place with an important social function - a meeting place, somewhere to relax, a fairly egalitarian place where people drink, talk and traditionally play games like cards or darts or even billiards. Sociological surveys have shown that the pub is the only place where the English willingly begin a conversation with a stranger!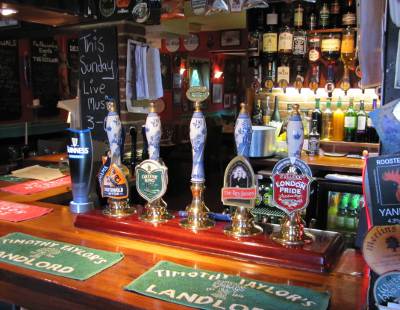 Bar in a traditional country pub
The word "
pub
" is short for "public house", i.e. a historic kind of community centre. In many English pubs, the large majority of consumers will be people from the neighborhood, the village, or the parish, who gather around the bar or table, just like in a episode of the popular TV series
Midsomer Murders
. The pub that people visit most regularly is known as their "local".
There are many very old pubs in England. The oldest of all, it is said, is a Nottingham pub called the "
Old Trippe to Jerusalem
" , whose name dates dates back to the Middle Ages when it was an inn frequented by Crusaders. Old pubs are mostly in the countryside, or in historic city centers, and when a pub is not old, the owner (an independent publican or a brewery) will often make an effort to make it look older than it really is; beamed ceilings, old oak furniture, soft lighting.
In the countryside, many old English pubs are inns or old taverns with a few bedrooms for travellers, as well as their bars.
Some traditional inns with accommodation, in England, Scotland and Wales, are listed in the iHi
small Hotel guide.
Every traditional pub is distinguished on the outside by its painted pub sign indicating and illustrating its name. In the olden days, illustrated pub signs were vital in order to identify pubs in an age when most people could not read.
The origins of the names of pubs in England are sometimes obscure , sometimes related to history or local specialties . Pubs called "
The King 's Arms
" are often to gbe found in cities or villages which were on the royalist side during the Civil War in the 17th century. In London, the name of the famous pub "
The Elephant and Castle
" is a distorsion of " the Infanta of Castile ", who was the wife of King Edward 1.
In cities that once prospered from the wool trade, there are pubs called "
The Sheep
" or "
The Woolsack
", in recognition of the animal that once underpinned the wealth of the region . With a few modern exceptions, every pub name tells a story.
Of course, there are also many "modern" pubs, especially in city centres, serving a very different and more transient clientele, such as office-workers, businessmen, passing tourists, or young people out for a night out. Depending on the customers they cater for, these will often have large TV screens to show football matches, karaoke, fruit machines (slots), music and/or trendy lighting.
Practical : drinking and eating in English pubs
One thing that often surprises foreign visitors is that in pubs there is
no table service
. If you go in for a drink, there's no point sitting round a table near the fire, or outside on a beautiful summer day, waiting for the bartender to come and take your order. He won't. It's up to customers, or one of them, to go to the bar, place orders, and return to the table with the drinks once these have been poured .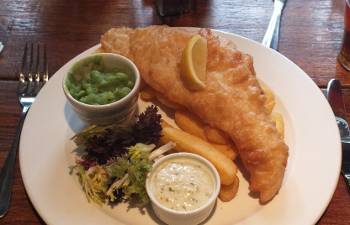 Fish and chips and mushy peas - a pub favourite
The same goes for food; if you decide to go for a pub meal, you normally have to order at the bar, and after that - depending on the pub - you will be given an order number, or a table number, or, if it's a very small pub, just remembered by the barman. In some pubs, your meal will then be brought to your table once it's been prepared; in others, you'll need to keep listening until someone behind the bar calls out your number, and you go and pick it up on a tray at from the bar.
Generally speaking, in pubs, food and drink are paid for upfront, i.e.
when ordered
, not after you have finished. On the other hand, if you are staying as a guest in an inn, and go for a drink or a meal in the bar downstairs, you can have it added to your bill.
Ales, beer, lager and other drinks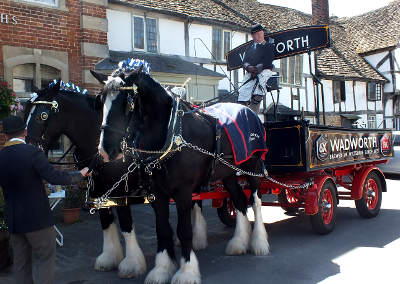 Delivering traditional ale to a country pub.
While pubs are generally thought of as places where people drink "beer", a lot has changed in the last 30 years. Consumption of international-style industrially produced light beers (called " lager " in English ) has overtaken that of the traditionally darker or amber-coloured and less carbonated English ales (often called "bitter " in English) . But following the "
real ales
" campaign launched in the 1960s by a number of micro-breweries, large and medium-sized English breweries have now improved and adapted their production, and gone back to producing traditional naturally-fermented ales, often unpasteurized and without any added CO².
Today, most pubs offer draught "real ales", alongside other beers and lagers with well-known brand names, industrially produced by large multinational brewing corporations.
For the authentic pub experience, visitors should ask the barman for a good locally produced "real ale".
Here are the names of a few "real ales " often found in the south of England :
Abbot Ale, London Pride, Theakstones, Old Speckled Hen, Breakspeare , Greene King IPA
(IPA = India Pale Ale , formerly the best beers exported to the colonies )
Spitfire, Adnams
, etc.
Ordering:
If you want to drink a normal sized glass of beer (around 250 millilitres), ask for a "half": this is half a pint. The English usually order " a pint " at a time. Note that people never just order "
a
beer" in an English pub; the tradition is to indicate both the volume (half pint or pint) and the specifric beer you want. So if you're ordering for two people, you may say something like "
A pint of Theakestones and a half of Heineken, please
. " The "please " at the end is a must!
Finally, it is worth remembering that pubs do not only serve beer ! You can order almost anything you want to drink, in terms of cold alcoholic or non-alcoholic beverages . Some pubs - including those serving food - also offer coffee, usually a long coffee in English , rather than espresso; but do not go to a pub if you want a cup of tea ! For this there are cafés, restuarants and tea rooms (which do not serve alcoholic drinks).
PS: A Word of Warning
It is advisable to avoid pubs in the center of some cities (and towns) on Friday night and Saturday night. Prefer a pub in a suburb, or in the country. Friday and Saturday nights are weekend evenings, when lots of people like to let off steam, particularly young people.
"Binge drinking" has become a serious social problem in some city centres, where, on Friday and Saturday nights, young people swarm into bars with little other intention than to drink the night away, and get drunk. It is a social phenomenon common in England, but not exclusive to the British Isles.
British police often work hard on Friday and Saturday night to control youth gangs roaming the streets, having obviously drunk too much, and sometimes seeking nothing better than a brawl.