About-Britain
.com - a thematic guide to Britain
Site index

Essential information

Places to visit

Attractions by theme

Issues & institutions
Tips and useful information
Britain is reputed to be an expensive tourist destination. But it does not have to be. For visitors on a limited budget, there are ways to travel at a fraction of standard train fares, and find overnight accommodation at very reasonable rates, not to mention plenty of free attractions. And these options are not just for students and backpackers. Many of them are open for anyone, old and young.
Travel on the cheap
Hotels in Britain at the best rates
from Booking.com
On the roads - car, suv, minibus, truck
If you are visiting Britain by car or other road vehicle, there are not many ways of reducing your travel costs, other than travelling shorter distances. The only tolls on British motorways are a few toll bridges over large estuaries, and the M6 Toll alternative route north of Birmingham.
Drivers coming to Britain from the continent via France in diesel vehicles are advised to take on a full tank of diesel in Calais or other port of departure; drivers coming on a direct ferry from Spain should fill up before leaving Spain.
Visitors planning to visit London should arrange accommodation in the suburbs, as central London is a charge zone, with a £11.50 daily charge (January 2020 rate). In addition, parking in central London is expensive: up to £4.90 per hour for on-street parking in central London weekdays 8 a.m to 7 p.m. –
if you can find a space
. Off-street parking is available in many car parks, notably those run by
NCP
- but this is not cheap either, and car parks are often full. One area close to the West End with cheaper parking is Regent's Park, where the daytime rate (2020) is £2.40 an hour,
limited to 4 hours
. Note: Regent's park closes at night.
Public transport - train and long-distance coach
Trains in Britain are expensive if you travel at peak periods, but much cheaper if you use off-peak services or slower inter-city services. For information on cheap train tickets, see
Britain by train
. To find the cheapest train tickets see
Raileasy
.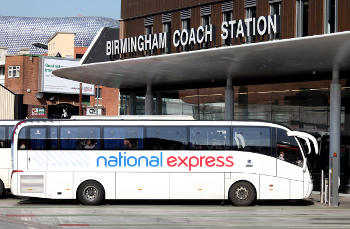 As an alternative to train-travel, Britain has many
long-distance coach (bus) services.
These operate between most British cities, notably London, and tickets can be a fraction of the full train fare. Different companies run different routes, but the largest operator of intercity coach services in the UK is National Express . National express are partnered with Eurolines for services to and from lots of destinations in Continental Europe, including Paris, Amsterdam, Berlin, Munich and many more.
Some major intercity routes are run by a company called Stagecoach whose tickets are marketed online through the
Megabus
website. Their routes include bus services to London from Paris, Boulogne, Brussels and Amsterdam - considerably cheaper than taking the Eurostar .
Check out Rome2rio's info page for more on
UK coach services
Flying
Cheap places to stay
Traditional British hotels tend to be expensive, but there are alternatives.
Cheap hotels
Be wary of cheap independent hotels, specially in cities. For inexpensive places to stay, prefer the low-cost chain hotels, notably the Premier Inn chain, which is Britain's leading budget hotel chain; other often reasonably priced hotels are Formule 1 and Ibis hotels run by Accor.
Click here for a large list of
two star hotels in Britain
.
Youth Hostels
Britain was one of the countries that pioneered the Youth Hostel movement, and today there are still some 200
youth hostels
in Britain. Gone are the days when youth hostels were only open to card-carrying members of the YHA; and gone are the days when "hostelers" had to provide their own sleeping bags, and do chores in the morning before leaving. Today's youth hostels, many of them in the country, are open to all, and offer good value accommodation in small dormitories and family rooms. There are even youth hostels in London, but advance booking is essential.
More hostels.
Hostels are no-frills hotels, which usually provide dormitory accommodation and for a bit extra family rooms or double rooms. they tend to be used by students and backpackers, or budget-conscious families... but there is no age limit.
►

To find and book
hostel accommodation in Britain,
click here.


Bed and breakfast
Don't imagine that B&B's are a cheap version of hotels. Some are, others are not. Like hotels, B&Bs can be star rated, and there are all sorts of B&Bs, including five star B&Bs charging five star prices. Click here for a
list of B&Bs
which often have rooms for under £45 a night (2015)
Free tourist attractions
For London see
London for Free.
For other areas, the best free attractions are generally natural sites and public museums and art galleries, many of which are free (see
best art galleries
).
While most of the free public museums are traditional art galleries and museums, there are some that are not, but are free all the same. The two most surprising free attractions in Britain are surely the
Big Pit mining mueum
at Blaenavon, south Wales, which provides free 1 hour trips down an old coal mine, as part of the National Mining Museum of Wales; and the
National Railway Museum
in York, the world's largest railway museum (and probably the only major one that is free to visit). Another free museum is the
National Museum of Slavery
in Liverpool; and another free industrial heritage museum is
Morwellham Quay museum
in Devon (see
Open Air museums
), which is free to wander round - though there is a charge for the best bits.
Many of Britain's
prehistoric sites
(though not Stonehenge) are free to wander round, as is
Hadrian's Wall
, in the north of England, Britain's finest and best preserved Roman site.
Note that some of Britain's big
cathedrals
, such as St. Paul's in London, have an entrance fee, but others such as Salisbury, Exeter, Durham, Chester or Wells - like many museums - are free, even though they strongly encourage visitors to make a donation .... often indicating how much they would like you to give.
Eat well on the cheap
Some general tips.
Restaurants: Chinese and Indian restaurants often do very good value three-course meals at lunch time. Many pubs also do quite good value meals, and the servings are often generous. However, the price and quality of pub food varies enormously. Look out for country pubs offering home made food... but check the prices first.
Fast food: (does not really come under "eat well" but .... ) there are of course plenty of McDonald's, Burger King's, KFCs and other fast food outlets all over Britain, if that is your taste; and sandwiches are available in most food stores except the smallest, as well as in garages and specialist outlets. But if you want fast food, don't forget to try a fish 'n' chips takeaway - the world's original carry-out fast food. For take-and-eat sandwiches, reputedly of good quality, try Prêt-à-Manger
Supermarkets : try the fruit and deli counters in medium-size or large supermarkets. You can get a great choice of ready-to-eat salads and cold meats to go with them. Two British specialities that have to be sampled (either from a supermarket or from a small specialist shop or stand) are Pork Pies (the best ones are Melton Mowbray pies), best eaten cold, and Cornish Pasties (pastry with a filling of spiced minced lamb and potato) best eaten hot.
For information about trains in and around London, see
London travel for visitors