About-Britain
.com - a thematic guide to Britain
Site index

Essential information

Places to visit

Attractions by theme

Issues & institutions

Shopping en Angleterre
Shopping in London - Ten stores that are worth a visit
London, the world's greatest city for shopping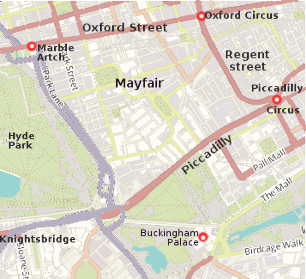 London is a shopper's paradise. Whether it's big department stores or small specialist boutiques, London has it all. Among the addresses that many visitors plan to visit are
Harrod

'
s in Knightsbridge, Europe's largest department store, and the shopping hub of the "West End", centered around Oxford Street, Regent Street and Piccadilly.
Forbes Magazine reports that London has outlets for 60% of all the world's top retailers, well ahead of Paris, which comes second in terms of choice, with slightly under fifty percent.
Hotels in London at the best rates
from Booking.com
And anyone who has shopped in Paris and London knows that London not only has more big stores, but also far more specialist stores, covering what is surely a wider range of specialist outlets than any other city in the world. Where else can you find such an unlikely variety of specialist stores, that includes a shop on Portland Square selling spying equipment, another on New Oxford St. which has been selling umbrellas at the same address since 1857, a Beatles shop on Baker Street, or a specialist Scotch whisky store, with over 170 different malts, at Covent Garden ?
Many of the oldest and more specialised shops (See
Typically British
- the stores that have define British lifestyle) are to be found in the West End, in the maze of smaller streets bordered by Regent Street, Oxford St, and Piccadilly. But there are plenty more parts of London that are reputed for their shops, mostly smaller ones; these include the trendsetting King's Road, Chelsea, for fashion, Tottenham Court road for its electrical and computer stores, Denmark Street (off Charing Cross Road) for its musical instruments and music shops, and the Covent Garden area for small delis and a range of other small specialist outlets. And many more besides.
Ten of the greatest shops to visit in London
For visitors coming to London with the idea of doing a bit of shopping, the biggest problems can be where to start, what shops to visit, and where to find them.
For the list below of
ten great London shops,
we have selected the six main London department stores, which all have a massive range of goods on sale, plus four more specialised outlets, including the world's best toy shop and Britain's biggest bookshop.
Name & address
Sells / special­ities
Status, numbers and highlights

Harrod

's

Knights­bridge,
87 - 135 Brompton
Road.


Tube:


Knightbridge
General department store, food
Founded in 1824, Harrod's is probably the world's most famous department store, and the biggest in Europe. Today's store was built from 1884. Harrods has over 90,000 sq. metres of retail space, and is reputed to sell everything. The shop has seven floors, 330 departments, and over 30 restaurants, and even sells bars of gold. A must for any visitor wanting to experience the top end of London shopping.

Selfridges



400 Oxford Street
General department store, food
Selfridge's original London outlet is the second largest department store in London, after Harrods. Founded in 1909 by an American-born entrepreneur as London's first modern department store

Deben­hams



334 Oxford Street
Clothes, household goods
The store traces its history back to the year 1778, and the name Debenham's was first used in 1813. Originally a draper's and clothing store, Debenham's is now a national chain, specialising in designer branded clothing, cosmetics and houshold goods. Debenham's also has an online store available in English and German, and delivers to many countries

Marks & Spencer



458 Oxford Street
Clothes, food
The most iconic of Britain's general department stores, Marks & Spencer, or M&S is reputed for selling good quality clothing and fashion at affordable prices. It is also reputed for home furnishings and food. The Oxford Street store, near Marble Arch, was opened in 1930. Marks & Spencers is a national chain, and its online store is available in English and French, and delivers to Europe.

House of Fraser


318 Oxford Street
General department store, food
House of Fraser is a national chain of up-market department stores, founded in Glasgow in 1849. The London store on Oxford Street was acquired in 1954, and traded as D.H. Evans until 2001.
John Lewis

300 Oxford Street
General department store, cosmetics, food
Unique among retail giants, John Lewis is a partnership, a cooperative company owned by a trust on behalf of its employees and management. The seven story Oxford Street store is the third largest department store in Britain, and the oldest and largest in the group, specialising in kitchenware, fashion, beauty products, travel goods and a whole range more.
Liberty

Regent Street
Fashion,
fabrics, cosmetics
The mock-Tudor half-timbered frontage of Liberty's on Regent Street, built in the 1920s, is unmissable. Liberty's is famous for its association with avant-garde arts, and showcased work from the Arts and Crafts movement and Art Nouveau designs and fabrics. A general department store, it specialises in luxury goods and quality fabrics for customers with an eye for traditional or modern design.
Hamley's

188 Regent Street
Toys
The world's largest and oldest toy shop occupies a building of seven floors in Regent Street. All kinds of toys and games, from the finest hand-crafted traditional toys, to modern mass-market products. A must (or alternatively a must not) for anyone visiting London with children.
Fortnum and Mason

181 Piccadilly
Food and wines,
tea and coffee
Britain's top delicatessen and specialist food store, Fortnum and Mason is now an internationally selling brand of high quality food products. The London store is over 300 years old, and now sells a range of other goods in addition to the core business of groceries. But Fortnum's remains primarily visited for its massive range of top quality food and drinks, including tea, directly sourced from round the world.

Foyles



107 Charing Cross Road
Books
A shop to get lost in... Foyles bookshop has a larger range of books than any other bookstore in Britain, including selected hard-to-find secondhand books . A mecca for book lovers and academics.
London Streets and London Markets
For visitors looking for something more unconventional or less mainstream than the products on sale in London's greatest shops, there are plenty mor places to go shopping in London. Trendsetting wear and alternative fashion outlets (punk, grunge etc.) can still be found on the narrow alleys and old warehouses of
Camden market
,
just to the north of the London Zoo and Regent's park (Underground: Chalk Farm, on the Northern line - then walk 500 metres).
More central is the
Seven-Dials / Covent-Garden Market
shopping area, close to Trafalgar Square, which is home to a large range of boutiques and stalls, specialising in fashion, lifestyle, jewelery and gifts, and arts and crafts. There is surely something for everyone in this area of pedestrianized streets and squares close to the main attractions of central London.
London has plenty of street markets, which are not open every day of the week, so check up before visiting. The most famous of these is the
Portobello road market
, in Notting Hill. This is open six days a week, but closed on Sundays; the busiest day of the week, when everything tends to be open here, is Saturday.
Once the heart of Punk culture, the Kings road in Chelsea is still today a popular shopping street, with about 100 different shops and restaurant on a mile of street;i t's lost the glamour and special qualities it once had, but remains popular with Londoners and tourists too.
Copyright : Texts and photos

© About-Britain.com 2009-2022