Britain's top art galleries - a general guide
Public and private - an unparalleled national treasure
"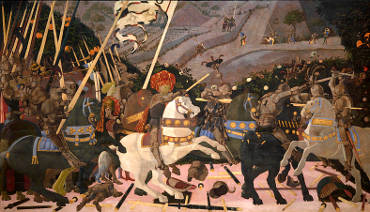 Uccello - The Battle of San Romano, painted around 1440.

London, National Gallery

There is a commonly held belief that Britain's best art galleries are all in London. They are not.
Given the importance of the great London galleries, and the existence in and around London of other major collections on view to the public, it is easy to imagine that the whole of Britain's national art heritage is to be found within twenty miles of the Houses of Parliament.
Nothing could be further from the truth. The great national collections in London - the National Gallery, the Tate, the Tate Modern, and others, are just the icing on the cake.
Even London has smaller top-quality art galleries, that might be given far more prominence if they were located in some other European or American cities. The Courtauld Gallery, the Dulwich gallery, Aspley House and Kenwood House are just four other London addresses with world-class collections of art.
In addition, the Royal Collection, belonging to the Queen, is one of the world's greatest art collections, and works from it can be seen in national museums, and also in Royal palaces such as Buckingham Palace and Windsor Castle, that are open to the public.
Outside the London area, there are three types of major art gallery in Britain. Both Wales and Scotland have their national art collections; all of Britain's provincial cities also have their art galleries, some of them with major collections; and finally there are wonderful old master collections to be found in some of Britain's great stately homes, perhaps the most notable being Harewood House in Yorkshire, with a world-class collection, or the magnificent Chatsworth House in Derbyshire, or Drumlanrig Castle in southwest Scotland.


The best London art galleries - the top ten
Name & location
Rating (/5)
Highlights
National Gallery
Trafalgar Square
5
Britain's major national art collection; one of the finest and richest collections of old master paintings in the world, with works by most of the world's greatest artists
Tate Britain
Millbank
5
British art from 1500 to the present, including all the great British masters from the Renaissance, through Turner and Constable and the Preraphaelites, to Francis Bacon
Tate Modern
South Bank
5
The world's most visited modern art gallery, with a full collection of twentieth and twenty-first century art, from Braque and Picasso to Damian Hirst and other contemporary artists
Courtauld Gallery
Somerset House, the Strand

5
A compact but very high quality collection of masterworks, from the Italian Renaissance to the 20th century. Includes a major collection of French Impressionists
Wallace Collection
Manchester Square,
north of Oxford Street
4
A significant collection of old and modern masters, including six works by Rembrandt, Frans Hals's world-renowned "Laughing Cavalier", a large collection of 18th century French art, one work by Titian and two by Velazquez
Dulwich Gallery
Dulwich, S-E London
4
A major collection of European art from the 16th to the 19th centuries. Notable for its 3 Rembrandts, 2 Raphaels, 4 Murillos and 9 works by Sir Joshua Reynolds.
Kenwood House
Hampstead, north London
4
Small top-quality collection of old master paintings, including works by Vermeer, Rembrandt, Frans Hals, Gainsborough, Turner
National Portrait Gallery
Trafalgar Square
3
Plenty of great masters, but the paintings are thematically limited to portraits of great and less great figures of British history.
Apsley House
Picadilly
3
Some two hundred paintings, mostly from the nineteenth century or earlier, including 4 works by Velazquez and one by Goya, and masters of the Dutch, Flemish and English schools
Victoria and Albert Museum
South Kensington
3
Though one of the world's top dozen visited museums, the V&A is primarily a decorative arts museum, not an art gallery. However it does have a significant collection of paintings, notably 18th and 19th century art.

Visitors to London should not miss out either on the British Museum. Though esssentially a museum rather than an art gallery, the British Museum is home to one of the world's greatest collections of prints and drawings, including drawings by Leonardo da Vinci, Michaelangelo, Dürer, Turner, Blake, Picasso, and many more.



Top ten art galleries in Britain outside London
Name & location
Rating (/5)
Highlights
National Gallery of Scotland
Edinburgh
5
A concise but world-class gallery located between Princes' St. and the Castle. It includes works by Boticelli, Raphael, Titian, Vermeer, Rembrandt, El Greco, Ingres, Monet, Turner and Constable, plus many more
Ashmolean Museum
Oxford
4
Britain's premier university museum, the Ashmolean covers a wide range of painting and other arts. Among the highlights are drawings by Michaelangelo and Leonardo da Vinci, and paintings by Uccello, Giorgione, Rembrandt, Turner, Constable, Renoir and Picasso
Kelvingrove Art Gallery
Glasgow
4
Kelvingrove covers a lot more fields than just art; but the collection of paintings is top quality, particularly on the dutch Renaissance and the French impressionists, as well as Salvador Dali's seminal work Christ of St. John of the Cross.
Walker Art Gallery
Liverpool
3
From Rembrandt to contemporary art, by way of the English Preraphaelites and the French Impressionists, the Walker has one of the best collections of any English provincial gallery
Harewood House
Yorkshire
3
A grand stately home, containing an art collection largely acquired in the early 20th century. It includes works by Bellini, Titian, Veronese and El Greco
Scottish National Museum of Modern Art
Edinburgh
3

A fine collection of modern art and sculpture; paintings include works by Picasso, Braque, Mondrian, Matisse, Warhol, and Francis Bacon among others. The sculpture garden includes pieces by Henry Moore and Barbara Hepworth.
Tate Liverpool
Liverpool
3
The largest collection of modern and contemporary art in Britain, outside London. Shows works from the national collection, and special exhibitions.
Birmingham art gallery
Birmingham
3
One of the best collections of works by the English Preraphaelites, as well as a representative collection covering the main perods of European art since the Renaissance
Lowry centre
Salford Quays, Manchester
3
Modern museum, built to house a great collection of the works of L.S.Lowry, one of the most iconic British artists of the 20th century, chronicler of life in Britain's industrial north.
National Museum
Cardiff
3
Particularly rich in 19th century French art, with many Impressionists and the world's largest collection of works by Honoré Daumier.
Copyright : Texts and photos

© About-Britain.com 2009-2016
Hotels in Britain at the best rates
from Booking.com