British cuisine - an introduction to traditional and popular fare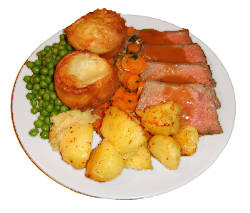 Roast beef
Gourmet Britain
Cookery is an old art in Britain, even if the classic dishes of British cuisine are not always on the menu in restaurants. According to recent surveys , the favorite dish of the British is now ... curry. Not exactly a British dish....

Nonetheless British cooking and British specialities are beginning to get a bit more international recognition than they used to have, even in a country like France, where classic British specialities such as crumble or Cheddar and Stilton are now available in good delis, and increasingly in supermarkets, and also on the menus in good restaurants.
Finding a good English restaurant in England, or a good Scottish restaurant in Scotland, specialising in traditional cuisine, is not always easy- which is not always easy. In London, for instance, there are certainly more "French" restaurants and "Italian" restaurants, than restaurants that announce themselves as "English" restaurants; but find a good restaurant serving great British specialities, and not even the finest gourmets will be disappointed. To eat out in places that serve good traditional British or local fare, the best bet is often to try a pub or a hotel offering home-cooking.

Britain is also a good place for bread: although most people eat mass-produced sliced bread from the supermarket, this is by no means the only choice available. The British also have a passion for French bread , particularly baguettes or "French sticks"; but the quality of other fresh-baked breads available in many British bakeries today is on a par with the best anywhere, and the choice often far broader than in continental bakeries.

Main course dishes
Steak & Kidney Pie , beef and kidney in a thick meat sauce (gravy), under a pastry pie crust, served with potatoes and vegetables.
Shepherd 's pie is a meat pie made with minced lamb, and covered with mashed potato: is is often served with buttered vegetables. Very similar , Cottage Pie is a shepherd's pie with ground beef.
Roast beef (or roast beef ) & Yorkshire Pudding with roast potatoes and two vegetables. This is the most classic "Sunday roast" . Yorkshire puddings are small puffballs made from batter. Note that the British do not eat vegetables separately from the meat, everything is served on the same plate. As far as the meat is concerned, this is a speciality that the English gave to the French a few centuries ago... hence the French word for roast beef which is "le rosbif".
Roast pork with apple sauce . British butchers do not cut up pork in the same way a butchers in some other countries. Roast pork comes with its rind, which , oven roasted, becomes golden and crisp. The French are just discovering this classic British way of roasting pork..
Roast lamb and mint sauce roast lamb , served with a sweet and sour mint sauce , accompanied by roasted potatoes and various vegetables.
Roast Gammon . The word " gammon " comes from the French word jambon, or the Spanish word jamon ; it is a roast ham is eaten hot with mashed potatoes and seasonal vegetables.

Roast potatoes

and Sunday lunch
Roast potatoes are potatoes roasted slowly in the oven, either on their own or with a joint of meat. In the old English tradition, the " Sunday roast " or "Sunday joint" was put to cook in the oven before people went to church on Sunday morning. On returning from church, all that remained to do was to cook the vegetables, and then put the dessert - normally an apple or fruit pie – into the warm overn. The "Sunday lunch" was complete. In households where they wanted a starter, it would usually be soup - but in ordinary families, even the best meals of the week were only a two-course affair. Cheese, if it was taken, was an alternative to the dessert, not an extra course.
Turkey stuffed with sage and onion . This is the classic English Christmas dish, eaten with a delicious stuffing made ​​with sage and onions. It is accompanied by a classically British "bread sauce" - a sauce made from white bread, milk, butter, seasoning and flavored with cloves.
Stew - this can be made from beef or lamb , stewed in the oven or in a pot for three hours with onions, carrots, parsnips, turnips , and seasoned according to the cook's own preference.

Fish and chips

, breaded or battered fish with fries. Prefer cod or plaice: In restaurants fish & chips are often accompanied by peas and baby carrots, and sometimes by something called "mushy peas", a mixture between peas and pea purée.


Fish & cheese pie

a baked fish gratinée with cream.

Fresh baked salmon :

a great speciality in restaurants not too far from the great salmon rivers in northern England and Scotland

Haggis

: the classic Scottish speciality. A kind of round sausage made of well spiced sheep's offal and oats, cooked in a sheep's stomach. To some people this may not soundvery appetizing, but it can be delicious.
Some English desserts :
While the good traditional British main courses have not earned an international reputation, British desserts have done a bit better. Some specialities such as trifles, crumbles and other British specialties have become established fare even in the best restaurants in France . Others are waiting to be better known ....


Pudding

. For many people in Britain,"pudding" is used as a generic synonym of "dessert". More specifically it refers to a kind of cake, spiced up with fruit, ginger , prunes, etc, and usually eaten hot with custard. Curiously, the word " pudding " comes from the French , being derived from the French word

boudin

(which today designates certain types of sausage in France). The original

puddings

were boiled or steamed, protected in a sheep's stomach, in the same way as sausage.

Christmas Pudding

is always cooked this way, even if the sheep's stomach has long been replaced by another envelope.


Note:

the original meaning of pudding as a kind of sausage is still found in Scotland, where

black pudding

is blood sausage, and

white pudding

is like a German

Weisswurst

.

Trifle

, another classic dessert: fruit and cake marinated in light syrup and sherry , covered with custard and whipped cream, eaten cold.

Crumble

: fruit (apples, rhubarb, plums or gooseberries) covered with a crumbly pastry and baked in the oven. Eaten hot or cold.

Apple pie

: Fruit cooked in the oven under a pastry crust . Generally served with custard (a creamy sauce).
Summer's pudding: a cold pudding made ​​from white bread marinated for 24 hours with raspberries and / or strawberries and / or blackberries, and if wanted with a little brandy or sherry .
Gooseberry fool (or foul ): a purée of mashed cooked gooseberries with sugar and cream, served chilled .
Jelly (Jello in the USA) A traditional dessert made ​​from fruit juice and gelatin. Since the 19th century, commercially manufactured jelly has become a favorite food with children in Britain. Sweet , cheap, and very colorful, this is an easy dish to suit all budgets . Take a packet of jelly, cut it into pieces, add boiling water, let cool , and the jelly is ready. Children love it . To increase the nutritional value (almost zero for water based comercially-manufactured jelly), add milk to make a milk jelly, or add fruit, or both.

Eton mess

: A summer dessert, made from strawberries, pieces of broken meringue, and cream, served chilled.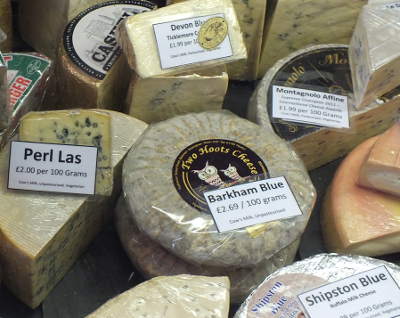 There are now hundreds of different cheeses available in Britain
Some great British cheeses:
In a classic English meal , cheese is eaten after - or instead of - dessert , accompanied by port or sweet wine
Stilton, The

king of blue cheeses

, a blue cheese made in the English Midlands. Blue Stilton is one of Britain's PDO cheeses (Protected Designation of Origin), and can only be made in areas of Leicestershire, Nottinghamshire or Derbyshire.
Westcountry Farmhouse Cheddar. "Cheddar" is the world's best known cheese; but the industrial product manufactured all over the world is a far cry from the PDO original, which can only be manufactured by local dairies near the town of Cheddar, in Somerset.

Matured Chedda

r. A higher quality and tastier version of ordinary Cheddar, but manufactured all over Britian.

Wensleydale:

similar to Cheddar , but whiter and with a slightly different taste Yorkshire. PDO protected.

Cheshire

: a hard but fairly crumbly white cheese made in Cheshire in the northwest of England. It is a cheese that has been made since the Middle Ages

Shropshire Blue

. An unusual blue cheese, insofar as it is a blue-veined yellow cheese, unlike virtually all other blue cheeses which are white.
Two popular dishes from elsewhere ....
Curry

: Originally from India, curry has become Britain's favourite dish. The word designates neither a spice nor a specific dish, but a whole category of dishes based on a stew of meat and / or vegetables and spices. Curries vary from very mild (the "korma" varieties) to very hot ("Madras curry" or "Vindaloo curry") and can be hot and spicy, cream or vegetarian. Traditional curries do not use pork . In India, the population is predominantly made up of Hindus, who are vegetarian, and Muslims, who do not eat pork .

Moussaka:

a dish of Greek origin, popular dish in Britain . A gratinee of eggplant (aubergine) on a layer of minced lamb or beef .

Apart from these traditional specialties , the British have very international eating habits, and are particularly fond of Italian, Chinese, and American fast-food specialities.



Copyright : Texts and photos

© About-Britain.com 2009 - 2017

►
UK hotel finder
Choose a category, then
click. On the results page, click "

show map

", and zoom in on the area or city
Book online in advance to ensure availability, and best internet rates, with low price guarantees