For many visitors, shopping is part of the English experience, and one of the reasons, indeed sometimes the main reason that some people visit Britain. And why not ? But if its British shops that you are after, there's no actual need to visit the UK at all.
Plenty of UK stores have online sites and deliver to customers all over Europe or all over the world..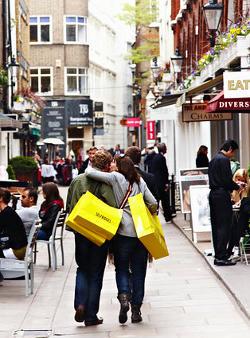 After shopping on Oxford Street....
More about Britain's shops
Typically British stores
British stores and brands that have helped to define the British lifestyle, some for over 300 years.

You may also like...
Online shopping from France
French online stores that deliver to the UK or worldwide
About-Britain.com has chosen a selection of UK retailers or brands that deliver sales to other countries.
As affiliates, About-Britain.com may receive a small commission on sales made by visitors who click through from this website.
Commissions have no effect at all on the prices charged.
Texts and photos © About-Britain.com unless otherwise stated
Photo top of page by d3Mn .