About-Britain
.com - a thematic guide to Britain
Site index

Essential information

Places to visit

Attractions by theme

Issues & institutions
Remember..... in Britain, drive on the left !!
DRIVING IN THE UNITED KINGDOM - for visitors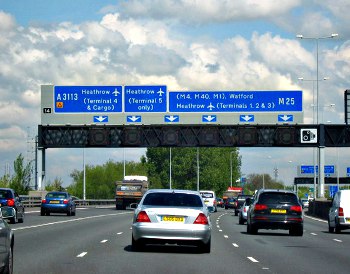 In Britain - as everyone knows - cars drive on the left! Actually, this is not as strange as people in some other parts sometimes imagine: traffic drives on the left in several countries, including Japan, India, South Africa, Indonesia, and others. But in Europe, since Sweden moved over to the right in 1967, Britain and Ireland remain the only countries where vehicles do not drive on the right. And this is not going to change; the cost would be prohibitive.
Driving on the left
is much less difficult than one might think, especially in a country like Britain where the roads are busy. Many major roads are dual carriageways or divided highways, and there are so many roadsigns that it is hard to go wrong. On country roads, signs are normally clear, and in urban areas, it is generally just a question of following the car in front of you.
Two risky situations ....
Hotels in Britain at the best rates
from Booking.com
a) You come to the end of a one-way street, and then get into the right lane because you are going to turn right. Take great care if you are turning into a two-way road: do not forget to move immediately over to the left of the road, otherwise you will find yourself on the wrong side of the road. And this is very dangerous. If you then find yourself facing a car coming in the opposite direction, it is easy to panic and let your instincts take over... , making you do the opposite of what you should do. You may instinctively pull over to the right, because that is your instinctive reaction, instead of moving to the left.
b) On narrow country roads, bordered by hedges and greenery, you may go round a blind bend and find yourself face to face with a vehicle coming in the opposite direction. Your reflexes may make you pull over to the right, whereas you should be doing the opposite !
Other important points.
c) Speed limits in Britain
These are indicated in miles per hour (mph), and not in km / h. Do not exceed the speed limit! There are speed cameras everywhere, and police in the UK can easily pull you over for speeding. Speeding tickets can be transmitted between European countries, and will certainly follow you home if you are caught speeding in a hire car.
Beware especially of
Average speed cameras
in Britain: these are cameras that record vehicle licence plate numbers as they enter a zone, and again as they leave it; they are part of the motorway landscape, especially on stretches where there are roadworks. Everyone respects the limitations, which are often 50 mph or 80 km / h.
The usual limit in built-up areas is 30 mph (about 50 km / h), or 40 mph on main urban highways; but there are specific speed limits in some places, so the best advice is to just watch the speed restriction signs. The maximum speed on dual-carriageways (divided highways) and motorways is 70 mph (112 km / h) for cars without trailers or 60 mph when towing a caravan or trailer.
UK speed limits converted into km/h.
Maximum speed in km/hr
Town / built-up area
Open road
Dual carriageways and motorways
Cars
48
96
112
Cars towing a trailer
80
96
Buses and coaches
80

96

on dual carriageways


112

on motorways
HGVs (trucks) over 7.5 tonnes
80
96
d)
Parking

,

Follow the instructions indicated by signs and yellow lines along the street. Double yellow lines mean no parking at any time. Single yellow lines mean no parking at certain times, usually on weekdays during the day. Specific information is provided on small panels. If you park in the wrong place, you risk a hefty fine or may even find your car impounded or immobilized by a wheel-clamp.
e)
Traffic lights:
In Britain, these turn from red to amber (orange) then green, and not directly from red to green. Don't start off on the amber light, you could receive a heavy fine.... or cause an accident.
f)
Roundabouts:
Traffic already circulating around a roundabout always has priority, except for a few rare cases. In some places, intersections are decorated with multi-roundabouts, collections of small roundabouts around a large roundabout .... It can be a bit confusing, and even the British often struggle to get used to these.
g)
Motorways

(freeways) :

These are free apart from one duplicated section of the M6 north of Birmingham on which there is a toll. Several major bridges have tolls.

This includes the Dartford river crossing on the London orbital motorway. Take care: toll gates here only take cash..... Euro notes are accepted (if you do not have any British money), and change is given in sterling.

In Autumn 2014, the Dartford crossing is introducing a "freeflow" system. The toll booths will disappear, and drivers must pay by phone or online. This is sure to cause confusion and chaos for passing tourists, even British tourists.

Main British motorways can be very busy; this is notably the case for the M1, M6, M25 (London orbital) and the M4 motorways, and all peri-urban motorways during peak periods.
h)
Filling up with petrol (gasolene) and other checks.
Fuel is sold in litres, not in gallons... which is a relief for North American visitors, since British gallons and American gallons were not the same anyway.
But if you inflate your tires in England, take care, the devices are sometimes calibrated in PSI (pounds per square inch ), not bars : 1 bar = 14.5 psi.
The price of gasoline is considerably higher than in the USA, and slightly higher than in neighbouring European countries. Diesel fuel is certainly more expensive than in France or Belgium.
Prices at the pump are cheaper in supermarkets like ASDA, Tesco or Sainsbury, and more expensive on motorways.
i)
Insurance

.

If you are coming to Britain at the wheel of a vehicle insured in another country of the European Union, your insurance is automatically valid in Britain. However the guarantees / cover may not be the same. Automatic pan-European vehicle insurance covers third-party risks (the damage you may do to someone else's vehicle or property) ; it does not necessarily cover damage to your own vehicle. You should check this out with your insurance company in your country of origin, before coming the the UK.
TIP: LONDON
Don't plan to drive into Central
London
; apart from the fact that parking is very difficult and expensive, Central London is a "charge zone". The charge is £10 or £12 a day, depending on whether you pay in advance or not.
If you need to come into Central London with a vehicle, you can pay online on the website of
Transport for London
up to 90 days in advance, on the day you travel or the next day: if you don't you risk a fine of £130.
The Congestion Charge can also be paid by telephone on +44 (0)845 900 1234 - but this is not recommended unless you are quite happy using a telephone pay service in English. Telephone pay services work with a string of options to put in on your keypad, and the process can take ages, speically if you make a mistake.
Otherwise, use public transport. See
London travel for visitors