About-Britain
.com - a thematic guide to Britain
Welcome

Essential Britain

Places to visit

Attractions by theme

Issues & institutions
Christmas and New Year - a holiday for all
Christmas in Britain - when everyone takes a break

Britain doesn't have a national holiday
- we have no Bastille Day, no Independence Day, no Founder's Day: instead we have Christmas.
Christmas in Britain, and most particularly in England, is the biggest party season of the year. Christmas Day itself, the start of the great holiday period, is the one day in the year on which the head of state - the Queen - speaks to the nation. Christmas Day is the high point of a festive period that lasts at least two days, but depending on the calendar, can become a holiday period of up to nine days, and one which people have been getting ready for for up to two months.
Holidays
The essential Christmas holiday in England can be up to four days off in a row. Not only is Christmas Day, December 25th, a public holiday, but so is the day after Christmas, December 26th, known as Boxing Day. In addition, according to a now-established tradition, if one or both of these holidays fall on a Saturday or Sunday, Britons enjoy one or two extra days of public holidays on the Monday and possibly on the Tuesday that follow. In 2022, December 25th being a Sunday, most activity in Britain except shopping will close down from some time on Saturday December 24th to Tuesday 27th inclusive. Some firms let their employees off as from the evening of December 23rd, and until the morning of January 2nd. As for public transport, services are considerably reduced during the two days of 25 and 26 December.
Christmas - New Year Sales
Among the major activities of modern Christmas in Britain, the Winter sales are particularly important. In Britain, people do not need to wait until January, the winter sales begin in England on 26th or 27th December, if not before, because
stores
are free to have Sales as and when they want ..... and notably to organise them when the people are still on holiday, not after the holiday period ends.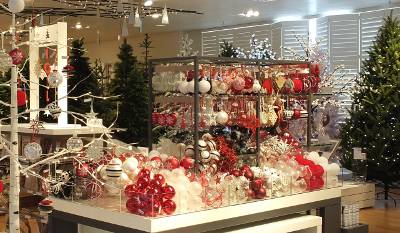 Christmas decorations on sale in a large department store
Throughout the Christmas and New year period, stores are always full - to the point that gift-vouchers have become a popular form of Christmas present, allowing the recipient to buy the gift they really want, and make the most of the bargains that are to be had in the Christmas - New Year sales period.
A traditional English Christmas
Even if many traditions keep changing, the English Christmas is still defined in terms of great traditions that date back to the nineteenth century or before. These include Christmas cards , Christmas carols , decorations and the Christmas tree, gifts and Christmas dinner – which is often really Christmas lunch.
A traditional English Christmas-day menu
Lunch or dinner:
Starters
:
optional, and depending on the cook's preference.
Main course:
Roast turkey, filled with a sage and onion stuffing, and served with bread sauce, gravy, roast potatoes, brussel sprouts and possibly a second vegetable.
Dessert
:
Christmas pudding
, served with brandy-butter or custard
The meal is accompanied by red wine, cider or beer, according to taste.
Christmas tea:
Christmas tea
is a snack taken around 5 pm by those who have not already eaten too much at lunch time. Tea is served with the traditional Christmas cake (a fruit cake covered in icing), or with
mince pies
(small pies filled with preserved fruit).
Even if shopping is now a more important part of Christmas for most people than remembering the nativity of Christ, the origins of Christmas as a Christian festival are not forgotten. In many public and private schools, especially at primary level, the "nativity play", a theatrical staging of the birth of Christ, remains an important event in the calendar; and according to a recent ORB survey, over a third of the UK population attends a Christmas Mass or a carol service during the Christmas period - far more than the 3% or 4% of the population that are regular church-goers .
Christmas cards
The tradition dates back to the early 19th century, and developed with the growth of the national postal service. From September onwards, cards come on sale in newsagents and department stores; they are usually available in packs of 10, and are increasingly sold on behalf of charities such as the Red Cross, Greenpeace, Oxfam or associations for the protection of wildlife and the environment.
While the growth of social media and email has led to a decline in the number of cards purchased, the British remain world leaders for sending cards (31 cards sent per person per year in 2011, according to the Greetings Cards Manufacturers Association), and Christmas is the greatest opportunity for sending cards. Many people send and receive fifty or even a hundred cards each Christmas, and these cards are used as part of the Christmas decorations.
All major charities now sell Christmas cards, and these can be bought online (and delivered internationally) from an Internet site called
Cards for Charity
. The Charities produce beautiful cards, with a large choice and great prices, eg a set of 10 beautiful cards + envelopes for less than £5.
Christmas carols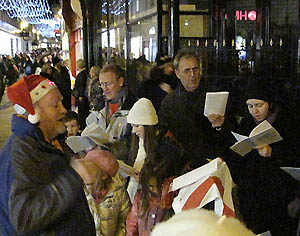 Carol singers singing in the street
The British love singing, and singing is part of English life, whether at school, with friends, or in church. As in the US, many well-known singers began their musical life as part of a school or church choir; and even at a time when few Brits go to church, 68% of the population say they are Christian (according to the 2011 census) and Christmas carols are familiar to almost everyone, Christian or not. A tradition that continues, especially in the country, is that of Carol-singing, when groups of young or not so young stand in the street, or go from door to door, singing carols and collecting for a charity .
There are also carol-singers in many major shopping streets and malls in the days before Christmas. Away from the street, almost all churches organize some form of Carol Service, which attracts many more than just regular worshipers. The Service of Nine Lessons and Carols from the chapel of King's College, Cambridge University, is one of the great musical events of the year for BBC television.
Christmas trees
The tradition of the Christmas trees is an ancient tradition that goes back a long way in time. It probably originated in pagan rites to celebrate the survival of nature in winter. The modern tradition began in Germany, from where it spread throughout the Christian world, and in particular in Protestant countries, in the 18th and especially the 19th century. The tradition reached England in the 19th century, promoted by Prince Albert, the German husband Queen Victoria; it then spread quickly to the point at which decorated Christmas trees have now become the classic symbol of Christmas - even more so than Nativity scenes. For most Britons, Christmas would not be Christmas without the presence in the house of a tree (real or artificial). Every city, every village, every neighborhood, every pub, every department store, and many small shops, too, has its beautifully decorated tree. In London, the huge Christmas tree in Trafalgar Square is given each year to the city by Norway, in a tradition that began in 1947.
Christmas day in England
According to tradition, Christmas in England is a family event. Many people get up early, because during the night Father Christmas (also known as Santa Claus) has left gifts for children. In Britain, Father Christmas comes into the house through the chimney and leaves his little gifts in big socks ("Christmas stockings") which children hang up on Christmas Eve, beside the fire, at the end of the bed or around the tree.
For those who respect the traditional ritual of Christmas Day, after breakfast comes a morning service at church, after which it's back home to eat Christmas dinner or Christmas lunch, which is eaten around 1 p.m. The two essential elements of Christmas lunch are stuffed turkey and Christmas pudding (see above). Christmas gifts are unwrapped either in the morning or after lunch. Formerly, in the 19th century, they were not opened until the following day, December 26, called Boxing Day - the day when the boxes were opened.
Today, while many of the essential traditions are still very much alive and well (Christmas stockings, turkey, pudding, gifts), Christmas church services attract fewer people, and new traditions have grown up, like watching a movie with family, going to friends, or going for a drive or a walk in the park or the country.

Links to external websites : Some of the outbound links on About-Britain.com point to selected online stores or outlets. For most of these merchants, About-Britain is an affiliated partner, and may receive a small commission on certain sales. This does not affect the price paid by the consumer. Thanks to these commissions, About-Britain is able to continue to offer completely free access to all parts of the website.