Site index

Essential information

Places to visit

Attractions by theme

Issues & institutions
Compare suppliers for best car hire rates in Great Britain
Hiring a vehicle in the United Kingdom is not difficult. Most airports have a wide range of hire-car facilities, and vehicles can be hired at major rail stations and in most towns and cities nationwide.
The
hire-car finder
search box
lets you check out the prices from multiple suppliers, including low-cost car rental firms and more familiar names.
For car hire in Britain, these operators include the following low-cost car-hire companies and brokers, and others too :
Are car-hire comparison sites reliable?
The answer has to be a definite
yes
, othewise they would have gone out of business some time ago. Car-hire comparison sites such as
Holidayautos
are the websites of car hire agents, not of the car-hire companies themselves. The agents, like travel agents, sell car-hire services from the car-hire companies. Because they are doing a lot of business, they can negotiate special discounted rates, that induvidual travellers cannot get..
For instance, if visit
Holidayautos
you will get to choose the best rates offered by a variety of car hire compaines such as
Hertz ,

Budget

,

Europcar

;
the choice depends on the location
Alternatively, your car may be supplied by a local car-hire company that has lower rates, perhaps because they use cars that are not quite so new.
Depending on who you actually get the car from, you may pick it up directly at the airport or train station, or may have to call the local representative, who will come and collect you at the airport or station, and drive you to a pick-up location nearby.
If you're in a massive hurry, on a business trip, or money's no object, then it's often just a bit easier to use a car hire firm like Hertz but generally speaking the low-cost agents are just as reliable, and, as mentioned above, you may actually pick up your car from Hertz anyway.... but you won't know that until you've confirmed your booking.
Hotels in Britain at the best rates
from Booking.com
NB: low-cost car hire operators may allow for pick up and drop-off at different locations within Britain , but not usually in a different country. If you plan to drop of a car in a different country, we recommend renting directly from one of the big international car-hire firms such as Hertz or Europcar.
Depending on the car-hire company, the minimum aége for hiring a car in the UK can vary from 18 years of age to 25. You must hold a
valid drivers license
from your country of origin.
You will need to show this license when picking up your vehicle.
Drivers from other
European Union
countries and some other countries
do not
need an
International
driving licence. However they may need to show a passport or national identity card.
Driving in other countries
Driving in other countries...
About-Britain.com is not a car hire company, and is not party to any car-hire transaction that you may enter into online. From this page, you will be directed to a third-party site, Euor-Carhire.com, a site of carhireengine.co.uk, a U.K. based car hire agent.
---
Text and photos copyright 2020 About-Britain.com
Picture top of page: London's orbital motorway the M 25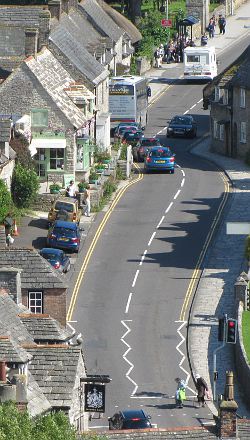 Road through an English village: double yellow lines indicate no parking 24/7, the white zigzag lines the approach to a pedestrian crossing
.
A short guide to survival on Britain's roads
More driving information pages