About-Britain
.com - a thematic guide to Britain
About Britain

Essential information

Places to visit

Attractions by theme

Issues & institutions
Heritage tourism in the east of England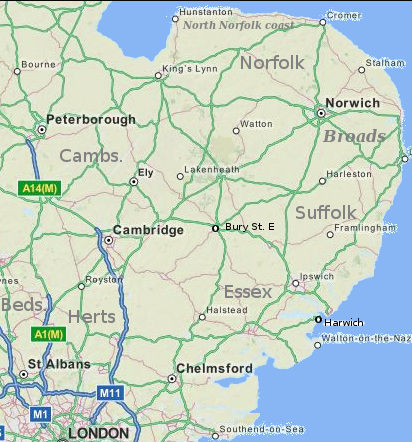 The east of England
The East of England consists of the counties to the north and north-east of London, as far north as the Wash - the north of Cambridgeshire. It includes the area historically known as
East Anglia,
plus the counties of Bedfordshire and Hertfordshire. For eastern England south of London see
south-east England .
The "East" of England starts where London ends, and most of this region is very easy to reach from the Capital. Visitors reaching England from Hoek van Holland in the Netherlands (Stena line) or from Esbjerg in Denmark (
DFDS Ferries
) will arrive directly in this region of England, if they take the ferry to Harwich. Harwich, in Essex, is well connected to London by train services and by road, and to the north of England, avoiding London, by road.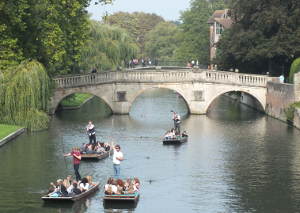 Cambridge
Largely off the track of wars, skirmishes and potential invasions since the Middle Ages, the East of England has a peace and tranquility that reflects the calm waters of its slow moving rivers. Not surprising therefore that the region should be strong on cathedrals and elegant stately homes, and short on castles and fortresses. Only during the Second World War was this once again, briefly, a strategic area, as it had been in the times of the Anglo Saxons and the Vikings.
Ten of the best historic monuments and sites in the east of England
Name
Location
Highlights
Colleges of Cambridge
Cambridge
King's College' chapel, Trinity College, St. John's College. Many of the colleges can be visited, at least in part, though some of them, such as King's College, charge an entrance fee. See Oxford and Cambridge
Ely Cathedral
Cambridge-
shire, Ely,
north of Cambridge
One of the finest cathedrals in England, in a beautiful setting in the small market town of Ely, between the old town centre, the spacious grounds of the Dean's Meadows, and the river. See Cathedrals of England
Peterborough cathedral
Cambridge-
shire
Built between 1118 and 1238, Peterborough cathedral is one of the oldest in England. The ambulatory, is a late 15th century addition, with a fine "perpendicular gothic" fan vaulting, as in Kings College Cambridge.
Audley End
Saffron Walden,
Essex, near Cambridge
One of the very finest 17th century country houses in England, Audley End was more a palace than a stately home; it is set in the midst of beautiful landscaped gardens, by Capability Brown. New parts of the house are open to the public in 2014
St. Alban's Cathedral
Hertfordshire
One of the oldest cathedrals in Britain, and a fine example of Norman romanesque architecture, with parts of it made, unusually, out of brick.
Hatfield House
Hertfordshire
A magnificent early 17th century stately home, with 42 acres of gardens and grounds. The house is open from April to September
Woburn Abbey
Bedfordshire
A great 18th century stately home, the home of the duke and duchess of Bedford: grounds and deer park open all year round, the house is open from April to September
Holkham Hall
North Norfolk
One of the greatest Palladian stately homes of England, set in wonderful parkland. An 18th century house designed by the architect William Kent, for the Earl of Leicester, and still in the same family.
Castle rising
Norfolk
near King's Lynn
Small 12th century Norman castle in the countryside, with a well preserved and decorative keep, that has similarities with the castle of William the conqueror at Falaise, in Normandy. Built around 1140 AD, it was more used as a hunting lodge than a military castle
Ickworth House
Suffolk
A very unusual neoclassical stately home, dominated by its "rotunda", the central part of the house, which is round. the house has a collection of old master paintings, including works by Titian, Velazquez and Gainsborough
The most interesting rural areas, outdoor attractions and coasts
Much of Norfolk and Suffolk are lightly populated rural areas, with plenty of good countryside and opportunities for walking and cycling. The area is popular with cyclists, because it is relatively flat.
Name
Location
Highlights
Norfolk Broads
Between Norwich and the coast, as far as Lowestoft
A "special area" with a stutus similar to a National Park, the Norfolk Broads are Britain's largest protected wetland area. The area covers 300 km², and includes 200 km of navigable waterways, very popular with sailors and for river boating. The "broads" are lakes, connected by slow moving rivers, and navigation is easy. There are plenty of opportunities for boat hire, but also for cycle hire or just for walking in this area famed for its bird life
Banham zoo
Norfolk - between Bury St. Edmunds and Norwich
One of the better small zoos in England. Family attraction with over 2000 animals from around the world. Throughout the day activities include daily Animal feeding talks, Birds of prey displays and presentations. Free Safari roadtrain, Education Centre and much more. One of Europe's best collections of small primates.
Norfolk coast
North Norfolk
The Norfolk coast has been a designated AONB (Area of outstanding natural beauty) since 1968. It is a very varied coastline, including sand dunes, low cliffs and the flat wetlands of the Wash. Most of the northern part of the coast between Hunstanton and Sheringham and Cromer is protected as nature reserves. North facing, this coast is more popular with walkers and nature lovers than for swimming or lazing on the beach.
There are plenty of attractive villages and small towns in the area.
Whipsnade Zoo
Bedfordshire, near Dunstable
Britain't largest zoo, apart from wildlife parks. Whipsnade is one of the world's greatest zoos, with a large collection of animals living in relatively extensive enclosures. See Britain's best zoos
Ashridge estate
Hertfordshire, Chiltern hills,
near Berkham-
stead
5000 acres of woodland and grassland on the Chiltern Hills; National Trust property, with plenty of walks and hiking trails. Beautiful bluebell woods in the spring. The Asridge boundary trail is a 16 mile circular walk, taking in the viewpoint of Ivinghoe Beacon.


Rail access Tring station 1.3 miles. Trains from London Euston
Ten of the best towns and villages to visit in the east of England
Cambridge
Cambridge-
shire.
One of the most beautiful small cities in Europe, with its fine collection of historic university buildings, dating from the past seven centuries. In addition to the colleges and King's college chaple, visit the Fitzwilliam Museum, with it's fine collections, and enjoy a trip in a "punt" on the River Cam . See Oxford and Cambridge .


Rail access - Trains from London King's Cross

Ely
Cambridge-
shire,
north of Cambridge
Ely has one of the largest, most beautiful, and oldest cathedrals in England; it boasts remarkable decorative mediaeval architecture on the outside and on the inside. The cathedral is particularly impressive for its size with respect to the small historic town of Ely itself. Visitors can enjoy the cathedral, and wander through the Dean's Meadows gardens down to the River Ouse
St. Albans
Hertfordshire
As well as the fine Norman cathedral, St. Alban's has an attractive historic city centre, with Saturday morning markets, and also vestiges of the Roman town of Verulamium, including the remains of the Roman amphitheatre and Roman city walls. Verulamium museum has fine Roman mosaics.


Easy access by train from London Euston to St Albans Abbey station (36 mins).

Bury St Edmunds
Suffolk,
east of Cambridge
Reputed to be one of the most attractive small towns in England, Bury is a fine traditional English town with many historic buildings. It has England's largest parish church, a 12th century Norman tower, a historic guildhall, and a unique theatre dating from the early 19th century.
Lavenham
Suffolk
Calling itself "England's greatest mediaeval village", Lavenham is a very pretty small town, though not really mediaeval. It is certainly a very interesting place to visit, with its half-timbered houses, and its 16th century guildhall. Lavenham church is one of the best 16th century perpendicular gothic churches in England.
Norwich
Norfolk
The capital city of Norfolk has an impressive Norman gothic cathedral, with marvellous cloisters. Norwich castle is - on the outside - a fine example of a Norman keep, built in the 12th century. The interior has been completely rebuilt over time, and now contains an interesting museum.


Rail access - Trains from London Liverpool St. (1hr 55)

King's Lynn
Norfolk, northeast of Cambridge
One of the chief towns of the "Fen" district, a landscape of polders around the Wash. In the Middle Ages, this was one of the most important ports in Britain. today it has an attractive old harbour area with renowned square 17th century Customs House and other historic buildings.
Very attractive villages
Castle Acre
Norfolk, east of King's Lynn
Pretty village with a Norman gateway, and the ruins of the Norman castle and priory, as well as many historic buildings
Blakeney
North
Norfolk coast
Very attractive fishing village on the North Norfolk coast, surrounded by areas of outstanding natural beauty.
Finchingfield
Essex, near Braintree
Claims that this is the most photographed village in England cannot be proved; but Finchingfield is a pretty village, perhaps the archetypal old English village, with mediaeval and 18th century houses round a village green with its duck pond. There is also a windmill.
Other attractions
Two top quality attractions for those interested in old aeroplanes and old cars.
IWM Duxford
Cambridge-
shire.
Just south of Cambridge
Europe's leading museum of aviation, with a collection of some of the most famous planes of all time, including the Spitfire, the Lancaster bomber, a B52 Stratofortress, and Concorde. A living museum with displays on some days.
The Shuttleworth
Collection
Biggleswade, Bedfordshire
At Shuttleworth (Old Warden) airfield, a fine collection of aeroplanes from the first world War to the Second world War, most of them in flying condition., and a great collection of historic cars and road vehicles.
Low-lying land, the East of England is characterised by many navigable rivers, lakes and canals. Picture top of page : Ely.
Britain's "low country", the areas of East Anglia and from the northern limits of London to Lincolnshire is an attractive area that, apart from Cambridge and the Norfolk Broads, is less visited by tourists than it ought to be.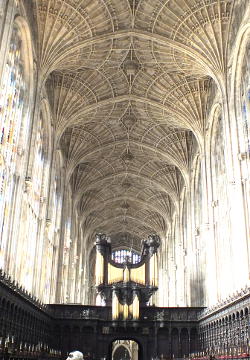 Fan vaulted ceiling in King's College chapel, Cambridge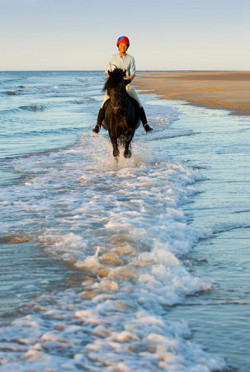 Horse riding on a deserted Norfolk beach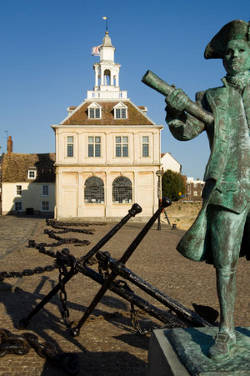 18th century Custom House and statue of Captain Vancouver, King's Lynn
Saturday market in the old centre of St. Albans, with the Cathedral in the background
Copyright : Texts and photos © About-Britain.com
Except: Norfolk beach and King's Lynn photos from VisitBritain
Map from Openstreetmap.org
U.K. TRAIN TICKETS
at best rates
from
Raileasy