About-Britain
.com - a thematic guide to Britain
Site index

Essential information

Places to visit

Attractions by theme

Issues & institutions
Historic and natural heritage sites in Kent Sussex and Surrey
Accommodation :

Hotels, cottages and b&bs


at best rates from Booking.com.
Choose your area at or near :
Southeast England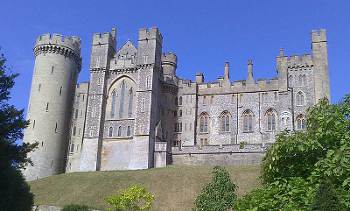 Arundel castle, east Sussex
For a day out from London, or a weekend break, the southeastern corner of England is an area that has plenty to offer, from castles to cathedrals and wonderful gardens to a spectacular coastline.
For the purposes of this guide, "Southeast England" is the areas of England lying to the south and southeast of London. It includes the outskirts of London south of the Thames, and the counties of Kent, Sussex and Surrey.
It does not include the whole of the statistical area of "Southeast England". For other counties in this area - Hampshire, Berkshire, Buckinghamshire and Oxfordshire, see
Southern England
.
For north of the Thames, see
East of England.
Visiting the Southeast of England.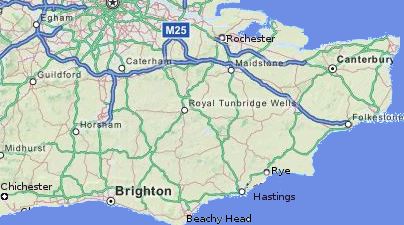 The Southeast of England is easily accesible from London and also from the Continent of Europe. International Eurostar train services stop at Ashford in Kent, and all the towns and cities in the southeast can be reached by train from different London stations, notably Charing Cross, Victoria and London Bridge.
The area is also served directly by car-ferry and Channel Tunnel services from Continental ports, notably by rapid services from Calais to Dover .
Most of the main roads in the southeast of England radiate out from London: there is no main arterial route along the south coast of England between Brighton and Folkestone, but the minor roads in this part of England pass through many attractive areas of countryside, villages and small towns.
Local accommodation: ►
Find places to stay in Southeast England :
Hotels, cottages and b&bs in:
Ten of the best historic monuments and sites in southeast England
Ratings out of 5 are relative to other similar attractions or monuments
Name & location
Rating (/5)
Highlights
Canterbury Cathedral
Kent
5
A UNESCO world heritage site, and one of the finest mediaeval cathedrals in England.
See Cathedrals in England
Hampton Court Palace

Greater London
5
A palace built for Cardinal Wolsey, during the reign of King Henry VIII. In the 17th century, it was extended in a bid to rival with Versailles. Today it remains as one of the finest Renaissance palaces in Europe. Easy access by train from London Waterloo - 45 mins.
Website
Arundel Castle
West
Sussex
5
One of the finest surviving examples of a Norman fortress in England. The castle has been home to the Dukes of Norfolk for over 800 years. It was extensively rebuilt in the late nineteenth century, but the Norman keep. Beautiful gardens. Special events in summer.


Train station 1.5 miles. Trains from London Victoria 1h36.

Website
Leeds Castle
Near Maidstone, Kent
5
One of England's most beautiful castles, built in the middle of a lake. Once the home of queens, the castle was built in the thirteenth century. It was continually embellished until the 20th century, and has spectacular interiors and 500 acres of grounds. Events.
Rochester Cathedral and castle
Kent
4
One of the best Norman cathedrals in England. The twelfth-century Romanesque west door has an ornamentally carved tympanum reminiscent of churches in southwest France. The castle close by is one of the best preserved 12th century castles in Europe.


Easy access by train from London Victoria in 1h 20mins.

Chatham historic dockyard
Kent
4
Close to Rochester. A major historic tourist attraction in the southeast, Chatham historic dockyard tells the story of sailing ships. There are three historic naval sailing ships, a still-working Victorian ropery, a dock railway, and several other collections to visit. Train station 1 mile. Website
Fishbourne Roman palace
near Chichester
West
Sussex
4
Remains of the largest Roman residence to have been discovered north of the Alps. This was a palace probably built for a local ruler in roman occupied Britain. It contains some of the finest Roman mosaics known. Roman museum, and reconstructed Roman gardens.
Website
Dover Castle
Kent
4
Magnificent defensive stronghold guarding the port of Dover for a thousand years. The castle is a fine mediaeval fortress, extended and strengthened in later centuries. Visitors today can explore the underground tunnels used during the Second World War.
Bluebell Railway
Sussex, East Grinstead
4
The original Engish preserved steam railway. II miles of track from East Grinstead to Sheffield Park. The line is directly connect to the national rail network at East Grinstead, which can be

easily reached by trains from London Victoria in 1 hour.

Website
Petworth House
West
Sussex
4
Impressive 17th - 19th century stately home, standing in 700 acres of parkland. As well as its interiors, including interesting servants' quarters and kitchens, as well as state rooms, the house is home to an extensive art gallery. On show are numerous works by Turner, who was a regular visitor to the house which he immortalized in many of his paintings. Website
The most interesting rural attractions and towns to visit in the Southeast of England
Name & location
Rating (/5)
Highlights
South Downs National Park - From Eastbourne, Sussex, to Winchester
5
Beachy Head and the Seven SistersEngland's newest national park, including part of Britain's heritage coast; long expanse of chalk cliffs overlooking the English Channel; an area of coastline protected by the National Trust. Photo top of page.
Royal Botanical Gardens
Kew,
Greater London
5
UNESCO world heritage site. Britain's premier and oldest Botanical gardens, with the world's largest collection of plants. The 300 acre site includes the palm house, the largest Victorian glass structure. Easy access by London Underground District line
Website
Romney Marsh
Kent and East Sussex
4
An area of flat fenland between the Downs and the sea, famous for is sheep and birdlife. Not to be missed is a trip on the 14 km Romney, Hythe and Dymchurch light railway, a narrow-gauge steam line with replica locomotives. Historic small towns at Rye and Winchelsea.
The North Downs
Folkestone to London - Kent and Surrey
4
The most popular parts of the North Downs are the area round Box Hill in Surrey, near Dorking. This is the nearest area of hill country to London. Britain's biggest vineyard is near Dorking, and the chalk soil produces wines similar to those from Champagne in France.
Boxhill & West Humble station 56 mins from London Victoria Bike hire facility beside this rural station
Brighton
Sussex
4
The archetypal and most ancient English seaside Resort in England. It was at Brighton that seaside tourism all began; in the late 18th century. The town is today one of Britain's main seaside resorts, with its famous pier and its ornate Indian-style Royal Pavillion, whose building started in 1787.

Easy access by train from London Victoria or London Bridge in about 1hr 15.

Chichester
West Sussex
3
Capital of West Sussex, Chichester is a small city with a fine mediaeval cathedral, which has a stained glass window by Marc Chagall. The gardens of the Bishop's palace can be visited. South of the city, the Chichester Harbour area is an Area of Outstanding Natural Beauty remarkable for its birdlife and pretty small villages. It is very popular for sailing. Fishbourne Roman Palace is nearby.
Train from London Victoria: 1hr 50
Weald and Downland Museum
Near Chichester,
West Sussex
3
A museum of rural England. Over 50 traditional buildings from the local area have been
rebuilt on this site, and many of them are furnished as they were in the past. Website .
Rye
East Sussex
3
Historic small town. In mediaeval times Rye was one of the two "Antient towns" charged with the defence of England's south coast. Today it is two miles from the sea, but remains a delightful small town with a very picturesque historic centre. Nearby is the other "antient" town, Winchelsea, also very attractive.
Richmond park
Greater London (formerly in Surrey)

3
A royal park, a national nature reserve and the biggest park close to London. 1000 hectares of parkland, in which over 600 deer roam in the wild. Ancient trees, and the Isabella plantation, an exotic arboretum containing hundreds of azaleas and rhododendrons.

Richmond staion 30 mins by train from London Waterloo

Tunbridge Wells
Kent
3
An attractive "classic" small English town famous for its historic centre, notably the Pantiles, a Georgian colonnaded walk now lined by chic shops, galleries and restaurants.

Easy access by train from London Charing Cross in about 55 mins (or London Victoria).
Copyright :

Website and texts © About-Britain.com 2009-2022 except where otherwise indicated
Photo top: Beachy Head, where the South Downs National Park reaches the sea.
Easily accessible from London, the southeastern counties of Kent, Surrey and Sussex offer not only some of the most beautiful and classic countryside in the south of England, but also a great choice of castles, cathedrals, stately homes and other historic sites to visit.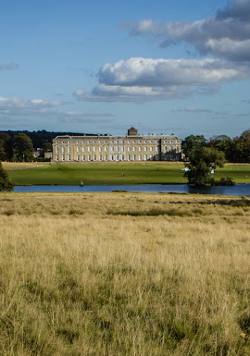 Petworth House, in Sussex
U.K. TRAIN TICKETS
at best rates
from
Raileasy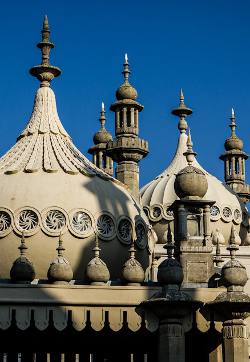 The Royal Pavillion at Brighton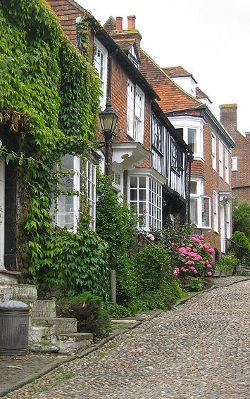 Mermaid Street, Rye, Sussex
Copyright : Texts and photos © About-Britain.com 2009 - 2022
Except: Arundel Castle
Creative commons photo by RedNovember82
Rye photo by Steve Knox GNU licence.
Map from Openstreetmap.org