About-Britain
.com - a thematic guide to Britain
Site index

Essential information

Places to visit

Attractions by theme

Issues & institutions
Britain's best zoos and wildlife parks
Britain's zoos, wildlife centres, and safari parks
Hôtels in throughout England
A great selection at best rates from Booking.com

:

Whipsnade
Canterbury
Longleat
Cotswolds
Winchester
Chester
Bristol
Twycross
England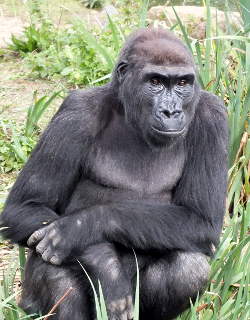 One of the gorillas at Bristol zoo
In all there are some forty-eight zoos in the United Kingdom today, plus six safari parks and a number of other wildlife centres some of which are quite small.
For the purpose of this page, safari parks have been included as zoos.
The difference between a zoo and a safari park is – in theory – that in zoos, it is the animals that are in cages while the humans are free to walk around, whereas in safari parks it is the human visitors who are in cages - normally their own car or vehicle - while the animals are free to move around.
In reality, it's a bit more complicated than that, and in safari parks in developed countries, none of the animals are of course, in complete freedom, even if their paddocks or enclosures may cover several acres; while in some zoos, such as Whipsnade, some of the animals are able to mix freely with the visitors.
Top ten lists like the one below are by definition subjective. This list has been compiled from personal experiences, third party reviews, and other assessments of the best zoos in the United Kingdom.
Ratings, on a scale of one to five, are relative to other zoos - 5 being world class. The zoos and safari park with a 5/5 rating are cited in various listings of the "world's best" in their category.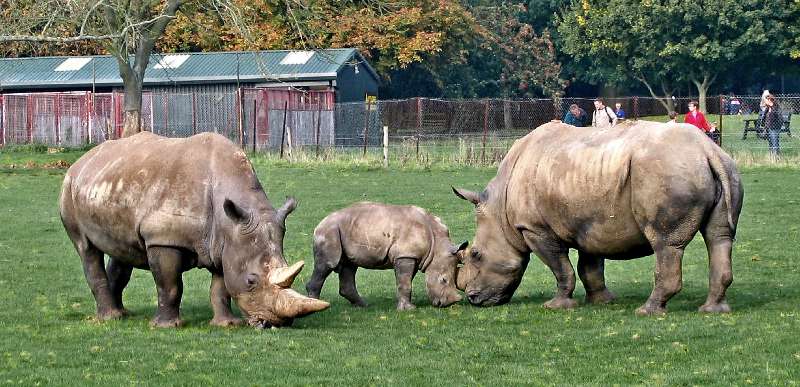 White rhinos at Whipsnade zoo .
The top ten zoos in Britain
Numbers refer to the zoo's collection of mammals, birds, reptiles and amphibians, but do not include fish and invertebrates (insects etc). Both Whipsnade zoo and the London zoo are run by the Zoological society of London.
Five of the zoos in the list below are in, or on the edge of, British cities, and can be reached fairly easily
by local public transport
. The five others are located in rural areas, and cannot be reached easily without private transport
Name, location, size
Rating (/5)
Status, numbers and highlights

Whipsnade


Bedfordshire
40 miles north of London
600 acres
5
Non-profit. Generally considered one of the world's top ten zoos. About 3000 animals, and one of Europe's largest wildlife conservation parks. By far the largest "zoo" in surface area, Whipsnade pioneered a new type of zoo, with spacious enclosures, when it opened in 1931. Highlights include free roaming wallabies, rhinoceroses, a large lion enclosure, and a seven-acre elephant enclosure. Website

London zoo



Regent's park
36 acres
5
Non-profit. About 2,100 animals, and the world's oldest scientific zoo. Strongly committed to conservation. The zoo's collection is very diverse, and among the highlights are its gorillas, tigers, and the largest penguin pool in any English zoo. Website


Accessible by London underground

Longleat


Central
southern England
Wiltshire, near Warminster
9000 acres
5
Company. 500 animals. Longleat, opened in 1966, was the first African safari park outside Africa. It occupies part of the grounds of Longleat house, seat of the Marquess of Bath. Best known for the "Lions of Longleat", the safari park is a series of vast enclosures, including giraffes, large African game animals, rhinoceros, monkeys and lions. Website

Chester zoo


Northwest
England
Chester, near Liverpool
111 acres
5
Non-profit : around 3,100 animals. The largest city zoo in Britain, Chester zoo is involved in the captive breeding programmes of over 130 of the world's threatened species. Among the zoo's successfully breeding species are Asian elephants, Indian lions, black rhinoceros, Sumatran orang-outangs, and Andean condors. The zoo's Tropical Realm is the UK's largest tropical jungle house. Website


Bus no.1 from Chester or Liverpool

Howletts wild animal park


Southeast
England
Kent, near Canterbury
90 acres
4
Non-profit: 350 animals. Strongly involved in wildlife conservation, Howlett's wild animal park is best known for having one of the world's largest colonies of Western Lowlands Gorillas. It also has a large herd of elephants, black rhinoceros, and many other rare species. Howlett's participates actively in programmes to reintroduce threatened species in their natural habitat. Website

Edinburgh zoo


Edinburgh, Scotland
82 acres
4
Non-profit: 1050 animals. The only zoo in Britain with koala bears and giant pandas. It was the first zoo in the world to have penguins on display. The 65-metre penguin pool is a major attraction; but it is the pandas - loaned for 10 years by China - that are the star attractions. The couple of pandas have so far failed to reproduce. Website


Accessible by Edinburgh city buses

Marwell wildlife centre
Central southern England
Hampshire, near Winchester
140 acres
4
Non-profit : 1700 animals. One of the earliest zoos to take up wildlife conservation, Marwell Wildlife is in the grounds of Marwell Hall, a Hampshire stately home. Marwell was a pioneering centre for the breeding of threatened species, and its successes have included the Mongolian wild horse, and the snow leopard. Marwell is particularly focused on African wildlife.
Website
Twycross zoo
East Midlands
Leicestershire
80 acres
3
Non-profit : 900 animals. Twycross zoo is best known for having the largest collection of primates of any zoo outside Japan. But the zoo also has a diverse collection, including elephants, sloths and boa constrictors. Website

Bristol zoo


Southwest England Bristol,
Avon
12 acres
3
Non profit : 300 mammals, plus birds and amphibians. The world's oldest provincial zoo, the best small zoo in Britain, and a pioneering conservation zoo. Britain's first black rhinoceros was born here, as was Europe's first chimpanzee; it is one of the few zoos to breed red pandas. The largest animals in this zoo today are the Western Lowland gorillas. Website


Bus 8 or 9 from Bristol Temple Meads station

Dudley zoo


West
Midlands
Dudley, near Birmingham
40 acres
3
Non-profit : 950 animals. Opened in 1937. Zoo in the grounds of Dudley Castle. Among highlights of Dudley zoo are lions, tigers, giraffes, orang-outangs and reindeer. The zoo has an active breeding programme, and successes include Sumatran tigers, snow leopards, and the rare Humboldt penguin. Dudley zoo holds the European studbook for the breeding of black lemurs. Website


2 minutes from Dudley bus station