About-Britain.com
- a discovery of the United Kingdom
The shops and stores that define Britishness
Modern shopping began its life in London, and a number of historic stores and brands still define classic British style to this day
A little history

Shopping
, in today's sense of the term, began its life in London, and it did so almost three hundred years ago.
It was back in the early 18th century that the start of the
Industrial Revolution
began to radically change the nature of British society. New industries, and with them new commerce, not only created new wealth, giving more people more money in their pockets, but it also led to the total transformation of English society. Until the Industrial Revolution, almost all the population lived in small towns or in the country; the only shops that existed were , in the words of the old nursery-rhyme, "butchers, bakers and candlestick makers". For everything else, or at least for those who had money for anything else, shopping meant the weekly market, or buying from wandering pedlars.
As the Industrial revolution changed society, more and more people moved into the cities, and more and more people had money to spend; and they needed somewhere to spend it. London, the great port city, already had its coffee shops and tearooms. Some of these were also places where wealthy merchants and gentlemen would meet up to do business with ship-owners who could import luxuries from far away, or export products made in Britain. Among the oldest of these was Lloyd's Coffee House, established in 1687, which later transformed into Lloyd's of London, which is now the world's greatest insurance market.
One of the first modern shops to open up in London was
Fortnum and Mason
's grocery store which opened in 1707, and is still reputed as Britain's top grocery store to this day. Many other small shops began to open in the new "West end" of London, in streets like Savile Row or St. James's St, or Bond Street, selling clothes and household requirements for the needs of the new urban upper classes and middle classes. Some of these historic shops, such as wine merchants Berry Bross and Rudd, on Pall Mall, founded in 1698, are still there today. Even older is Lock & Co's shop at 6 St James's St which was set up in 1676; however as a shop making and selling gentlemen's hats, this is a shop that caters nowadays to a very narrow clientele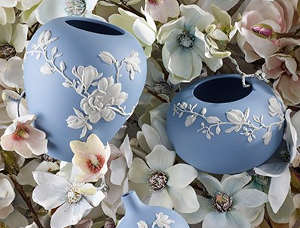 Wedgwood blue jasperware, iconic British pottery
In 1768, one of the great pioneers of the English Industrial Revolution, Josiah
Wedgwood
, set up the first London showroom for the fabulous pottery he produced in his factories in Staffordshire. Wedgwood sold his pottery to the great and good, and in doing so created the idea - though not the word - of marketing, by offering his customers the same china and porcelaine as were used in royal palaces. Anyone with enough money, who wanted to buy the latest style and most classic products of British household tableware, knew that they could get them from Wedgwood. Other pottery manufacturers, such as Crown Derby and Spode, later followed Wedgwood's example, selling their fine tableware through outlets in London.
By the end of the eighteenth century, London had become firmly established as Britain's, and the world's, premier shopping city.... indeed, in terms of the variety of goods available at the time, the world's only shopping city. It even had the world's first toy shop, Hamleys, established in 1760, and arguably the world's first department store, Harding, Howell & Co, on Pall Mall, which traded from 1796 until 1820. The world-famous
Harrod's
department store, which is still trading today, dates back to 1834.
Having been first of the mark in terms of industrial development, Britain was also the first country in the world in which styles and fashion became national standards. Before the 19th century, fashions and style were mostly a local affair. There was some corssover from area to area, since some people travelled; but by and large, most people did not travel, so were only familiar with what other people wore, or how they liveed, in their own local area. The industrial Revolution changed all of that, leading first to the establishment of national canons of fashion, then later, with advertising and international trade, to the development of international fashions.
Today, a number of the historic shops and brands that have come to define British fashion and style in clothing, lifestyles and personal image, are still there and reaching not just a local British clientele, but a worldwide audience for whom the expression "typically British" remains synonymous with good quality and good taste. And the process is ongoing; alongside the historic brands are newer more modern brands that have proved their excellence and come to lengthen the list.
Some of the most classic "typically British" stores and brands are listed below, starting with the oldest. Click any link to visit the merchant's website
Twyning's Teas
- Founded in 1706, Twyning's teashop has had premises on the Strand, London, for over 300 years ! You can still go and enjoy some tea there today. For those unble to visit London merely for a historic cup of tea, Twyning's teas are available online from the company's website and in many shops.
Fortnum and Mason
- Founded 1707 - London's most famous foodstore, catering to London society and, since the introduction of mail-order, to customers all over the UK and all over the world. The best of British and international gourmet food, available worldwide through the online store.
Hamley's
- Founded 1759 - Toys that you could buy were a new concept when William Hamley opened the first toyshop in London, called "Noah's Ark", over 250 years ago. Now owned by an Indian multinational, Hamley's still has its flagship toyshop on Regent Street, London, and sells toys throughout the world through its online store.
Harrod's
Founded 1760 - London's most famous foodstore, catering to London society and, since the introduction of mail-order, to customers all over the UK and all over the world. The best of British and international gourmet food.
Wedgwood
- First London store opened in 1768 - If there is any single brand that is iconic of British tableware, it has to be Wedgwood. Wedgwood china is today sold through most of the best tableware stores in Britain, and is available directly online for sale worldwide on the company's website.
Henry Pool & Co
. - Founded 1806 in Brunswick Square, now at 15 Savile row. London's oldest high-class tailors. The company, which invented the dinner jacket or tuxedo, still manufacture made-to measure suits in their store in London
James Smith & Son
- Founded 1830 - London's oldest specialist umbrella store. The ultimate source for hand-crafted umbrellas and parasols, Smiths have been supplying customers for almost two hundred years in London, and now deliver worldwide.
Burberry
- Founded 1856 - Perhaps the oldest fashion brand name in the world, the brand founded by Thomas Burberry became known originally for coats and outdoor wear, is now the UK's best known quality fashion label. Burberry has its own stores in several countries, its products are sold in many other outlets, and can be bought online from
Liberty
- Founded 1875 - Liberty is a name that has become synonymous with British interior design. Over time, Liberty's fabrics, furniture and accessories have been inspired by oriental motifs, the British Arts and Crafts movement, and Art nouveau, and popularised the famous "Paisley pattern" design back in the 1880's. The company's flagship store is located on Regent Street, London, and liberty products are available from the Liberty website
Crockett and Jones
- Founded 1889 - One of the world's top shoemakers, this is a company that began life in Britain's shoemaking capital, Nottingham, and is now famous for its handmade shoes that are sold worldwide. Today the company has stores in London (six outlets), Birmingham, Brussels, Paris and New York, and their shoes can be bought in top class shoeshops worldwide
Barbour
Founded 1894 - The brand, which epitomises top quality British all-weather outdoor wear, was set up in the north of England. Today Barbour has its own stores in London and throughout the UK, as well as in some other countries, and Barbour products can be bought in many top department stores worldwide as well as online through retailers such as
John Lewis
.
For more Uk stores that sell online, check out
►
UK online stores